Your fall playlist 2023: The top 25 underrated Halloween songs
Fall is a season that sparks memories of trick-or-treating, carving pumpkins, and most importantly jamming out to the best Halloween tunes! In order to ensure that the only music on your playlist this time of year isn't just "Thriller" and "Monster Mash," here is another list of the top 25 spooky songs that will send a chill down your spine.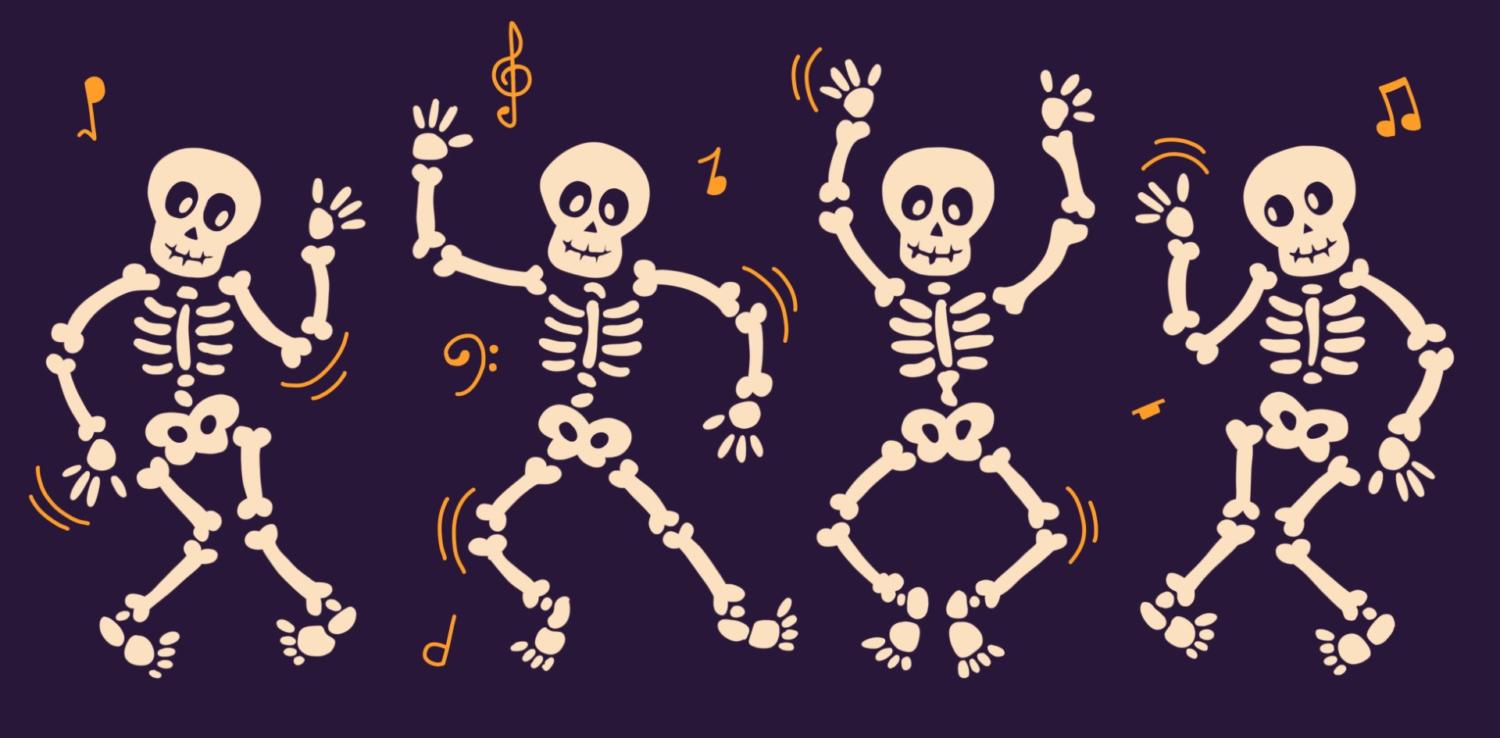 Jessica Pfeifer | Conant Crier
"The Pumpkin Song" by August Greenwood (feat. Sushi Soucy)
A jovial song that bounces through the tale of the Pumpkin King's son's quest for friendship to the strumming of a ukulele.
Spooky Lyrics:
"It got so lonely in those woods
It seemed like no one understood
That deep inside his pumpkin heart
He wanted to be good"
"Me and the Devil" by Soap&Skin
This cover of Blues icon, Robert Johnson, brings a new haunting feeling through the use of orchestral string instruments and eerie sound effects. 
Spooky Lyrics:
"It must be that old evil spirit
So deep down in your ground
You may bury my body
Down by the highway side"
"If You Have Ghosts" by Ghost
This uplifting pop rock Roky Erickson cover with a solid rhythm is perfect for when you want to jam out with your ghostly friends.
Spooky Lyrics:
"If you have ghosts
You have everything
You can say anything you want
And you can do anything you want to do"
"Devil" by Moon Walker
With a funky beat and unique vocals, this eccentric tune is sure to make you see where the Devil lurks in society even outside of the Halloween season. 
Spooky Lyrics:
"They sell you corporatism
And wrap it up in freedom
I like to keep my god close but the devil closer"
"Violence and Spiders" by Saint PHNX
The slow parts of this song create a chilling atmosphere that stand in sharp contrast to the quicker, more energetic portions, just like the perfect jumpscare!
Spooky Lyrics:
"Wh-wh-what are you afraid of?
When the nightmares come
And the darkness kills the day
Tell me what you're scared of"
"The Devil Wears a Suit and Tie" by Colter Wall
This twangy folk song paired with Wall's gruff vocals and narrative lyrics creates a song perfect for 'round the campfire storytelling.
Spooky Lyrics:
"Reverend, reverend, please come quick
'Cause I've got something to admit
I met a man out in the sticks of Good Ol' Miss"
"La Seine (English Version)" by Vanessa Paradis 
Originally from the movie 'A Monster in Paris,' this French song paints a distant and mysterious picture befitting the season.
Spooky Lyrics:
"I feel alive when I'm beside
La Seine, La Seine, La Seine
From this angle like an angel
La Seine, La Seine, La Seine"
"Killer" by the Hoosiers
English pop band, the Hoosiers creates a captivating song that will make you fear what lurks just behind you in the darkness.
Spooky Lyrics:
"For shadows haunted me like ghosts
So I became what I feared the most
I conduct fear like electricity
A manmade monstrosity"
"Devils on Horseback" by People Soup & I Monster
This psychedelic electro pop song fits in seamlessly among the Halloween classics.
Spooky Lyrics:
"Imprisoned by his eyes
His heart is made of stone
A devil in disguise
I hear the church bells"
"Dr. Sunshine" by Will Wood and the Tapeworms
Avant-pop is the best way to describe the chaotic journey that this chaotic fast-paced song takes you on. Although this song may not be inherently Halloween-related, something about its unusual approach to music and storytelling gives it a very strong Halloween feeling.
Spooky Lyrics:
"When did I become afraid of the dark?
Are my eyeballs just yet to adjust to seeing the light?
The room I'm in is still the same, the shadows have not rearranged it"
"Pumpkin Pie" by Lemon Demon
Grab a slice of fresh pumpkin pie and settle in for a fascinating tale! In this song, Neil Cicierega sings the mysterious tale of a merchant, who created pumpkin pie so delicious that no one could resist, to a fast-paced folksy beat. 
Spooky Lyrics:
"He lived alone, (He lived alone.)
And every night he sat upon a throne of pumpkin pie
I do not know his name. (He'd never say his name.)"
"Friends in Low Places" by Worthitkids
Have you recently found yourself to be a member of the living dead? Well, no need to fear! This indie punk song with a punchy beat will pump you up for a night of jamming in the graveyard.
Spooky Lyrics:
"I wasn't missed or mourned, my body never found
But I made new friends here underground
I was chosen for a second chance at life"
"Ghosting" by Mother Mother
Being ghosted on the internet is no fun, but hanging out white sheet-covered ghosts while listening to this earworm most definitely is.
Spooky Lyrics:
"And this is why I have decided
To leave your house and home un-haunted
You don't need poltergeists for sidekicks"
"You're Dead" by Norma Tanega 
Released in 1966, this folk song holds the test of time through Tanega's chilling vocals and use of percussion and guitar.
Spooky Lyrics:
"Don't sing if you want to live long
They have no use for your song
You're dead, you're dead, you're dead
You're dead and out of this world"
"Rule #21 – Momento Mori" by Fish in a Birdcage
A caffeine-induced tune that'll put a pep in your step as you're walking from house to house to collect some tricks and treats.
Spooky Lyrics:
"My brain was cynical
Inside this massive hole
And then it swallowed me
I never wanted to sleep"
"Enchanté" by Dirt Poor Robins
A rock song that utilizes old-school jazz elements to create a creepy melody, which would serve as excellent background music for any endeavors to raise the dead.
Spooky Lyrics:
"While the gargoyles kept away
Any demon that would scheme to steal
My childlike faith"
"Nocturnal" by Mothica
Befitting a sci-fi horror story, Mothica utilizes an electric pop to create a chilling melody and rhythm.
Spooky Lyrics:
"Don't got a need for sleep
Stuck in a lucid dream
Daylight's not for me
That's why I'm nocturnal"
"Haunted" by Shawn James
James mixes his folk-style voice with an electric accompaniment to create a song well-suited for any paranormal encounters.
Spooky Lyrics:
"When I go you know you can't follow me into the darkness
Where I go you may not make it through the night
Only those who aren't afraid to lose it all
Are the ones who may make it out alive"
"Lullaby of Woe" by Ashley Serena 
Serna's haunting voice paired with a simple ominous underscore will send a shiver down your spine and you'll begin to question if that noise you heard really was just the wind…
Spooky Lyrics:
"Fearing all manner of ghouls, hags and wraiths
My dear dolly Polly shut your eyes
Lie still, lie silent, utter no cries"
"Mx. Sinister" by I DON'T KNOW HOW, BUT THEY FOUND ME
An energetic alternative song that makes you fear for the life of whoever is being stalked by Mx. Sinister.
Spooky Lyrics:
"Oh you never seem to notice
When I follow you home
In the dark of your apartment
When you think you're alone"
"Freak" by Sub Urban (feat. REI AMI)
This spine-chiller's dramatic melody will leave even the most brave of heart uneasy for their next trip to the circus.
Spooky Lyrics:
"Welcome to our freak show, come meet my monsters
Oh, such a fine collection of stranger things"
"Halloween" by JP Ashkar
A laid-back song that captures all of the most beloved elements of Halloween in its lyrics.
Spooky Lyrics:
"Halloween, will make you run, make you scream
Deep into the darkness of the night
Halloween, will make you live out your worst dream"
"Crucified" by Army of Lovers 
This Swedish pop band is well-known for this 1991 hit, yet the song has yet to become a Halloween classic despite its bold chorus and captivating lyrics.
Spooky Lyrics:
"I'm crucified
Crucified like my savior
Saintlike behavior
A lifetime I prayed"
"Halloween Thrills" by Ghost in the Keys
A Halloween bop bound to haunt your nightmares with its addicting chorus and classic "spooky" sound effects.
Spooky Lyrics:
"Raise the roof, and wake the dead
This sound will roll you out the bed
Endlessly the noise goes on and on"
"You Make Me Feel Like It's Halloween" by Muse
From the album Will of the People, originally meant to be a greatest hits album, this song encapsulates all of the vibrancy of Muse's music while also creating a fresh Halloween song. With its organ-based intro and unnerving lyrics, this song makes it clear that even in 2022, Muse was on the top of their game. 
Spooky Lyrics:
"When you turn out the lights
You make me feel like it's Halloween (Halloween)
It's Halloween (Halloween)"
Still looking for even more spooky songs? Check out our fall playlist from last year!