Conant student publishes collection of short stories teaching kids about social issues
KAN-WIN Youth Peer Advocate Leadership
How do we teach children to respect and understand complex social issues like discrimination, consent, and gender norms? How can these topics be communicated to impressionable young minds in a way that teaches acceptance rather than hate? How can we inspire the unity necessary to make this world a safe place for all in future generations?
Conant senior Varsha Patibandla offers one solution in Short Stories for Change, a newly published collection of childrens' stories. Put together by the organization KAN-WIN Youth Peer Advocate Leadership (YPAL), Short Stories for Change offers 75 pages of beautifully drawn illustrations and clever analogies to help kids understand difficult issues.
"YPAL is an education program for young people," Patibandla, who participated in the publication of the titles via an internship over the summer, explained. "They teach us about domestic violence and how that's affected the Asian-American community specifically."
The internship, which was held entirely over Zoom, was a group effort made up of students from across the Chicagoland area working together towards a common goal: to teach children about difficult topics while carefully keeping everything G-rated. "We're trying to present these to children," Patibandla said. "We're not trying to be graphic or scare them in any way, so it was a challenge to work around ideas like consent in ways that aren't super sexualized."
Patibandla focused primarily on a story called "Takee's Tragic Tumble," which explains consent through the lens of a young boy who gets pressured by his friends to play with them during recess when he doesn't want to. Although he initially says he wants to play, he later changes his mind and his friends get upset with him. This clever anecdote skillfully dodges some of the less kid-friendly aspects of explaining consent by presenting a story with relatable concepts (a kid playing at recess) and a clear message (that his classmates should respect Takee's decision once he revokes his consent, even if he said he wanted to play before).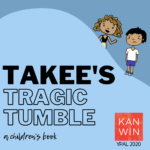 KAN-WIN Youth Peer Advocate Leadership
Stories such as this are found throughout the collection, and titles range a variety of social issues, all creatively told and illustrated while staying carefully within the range of appropriate media for children to consume.
What motivated Patibandla and other Chicagoland high schoolers to strive for change? In part, Patibandla says it was because she never had anything like the collection growing up. "When I was younger, we never fully went into topics such as this," she said. "I thought that if there was a book that was discreet but still told the message, something that teaches compassion and kindness to children… I think that's going to be better for everyone."
Such a feat may seem daunting for Conant students, but Patibandla encouraged other students to publish their own work, as long as they're passionate about it. "I would say don't do it just to do it. I didn't do it for the title; I'm still amazed when people call me an author. I just did it because I thought it was a good cause," Patibandla said. "Even if it's not book publishing, anything you can do to expand on something you're passionate about is a great thing."
As for the future of this young author, Patibandla says she wants to pull back from the spotlight for a while. "Right now, I'm trying to dwindle off of this book publishing stuff. Hopefully I can continue working with KAN-WIN, maybe get to the executive board and start doing some more donation collection, organizing some more events, that would be really cool."
Finally, Patibandla encourages everyone to buy the book. It can be found on Amazon for $10.17 as a paperback or $1.99 for a digital copy, and all proceeds go to charity.
Click here to check it out!