New Teacher Spotlight: Iris Marji
This school year, Conant has nine new teachers. Seeing as most students won't be introduced to them in the typical way, the Crier is providing short features on each. Today, the Crier would like to introduce Iris Marji from the ESL department.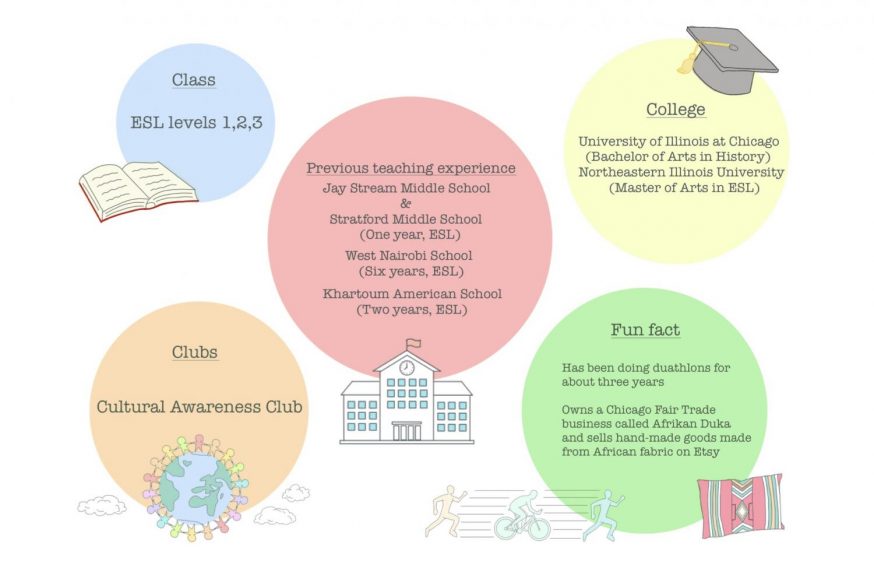 Kana Nagoya | Conant Crier

Crier: Do you have any hobbies?
Marji: I love running and cycling. I got into duathlons about three years ago and started developing myself as a runner. For short distance running, I run about 10K, and for cycling, the most I've cycled is about 80 miles in one day. I'm trying to become more of an endurance cyclist right now.
Crier: Have you participated in any tournaments?
Marji: I competed in the 2019 ITU World Championships in Pontevedra, Spain in the Sprint Duathlon (5k run – 20k cycle – 2.5k run). I am registered to compete in the 2021 ITU World Championships in the Netherlands next September in the Standard Duathlon (10k run – 40k cycle – 5k run).
Crier: Do you cycle on the weekends?
Marji: Yes. I am part of a group that meets here in Hoffman Estates. We cycle in Barrington Hills, Geneva, or Kenosha. I joined them this summer, so I am still new to the group. Before that, I used to do a lot of cycling and running in Kenya, where I lived for some time.
Crier: Which countries have you lived in before?
Marji: I was born and raised in Chicago and spent most of my childhood in the north side of Chicago. Once I got married and had my son, we went to Sudan, and lived there for seven years. Then, I moved to Kenya and lived there for about six years. After those 13 years, I came back to the USA less than two years ago.
Crier: Why did you become an ESL teacher?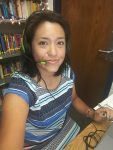 Marji: After graduating from UIC, I knew that I would like to go for my master's degree in teaching English as a second language, mostly because of my upbringing. I am a second generation child from both sides of my family; my mother is Filipina, and my father is Mexican. I grew up bicultural, so I felt mostly connected to those students who are coming newly into the country. I also wanted to use my degree to help others in foreign countries.
Crier: What is one thing that you keep in mind when teaching students?
Marji: I keep in mind that students are going to get better. When teaching ESL, language is a barrier in learning so you have to take it one day at a time. When you're patient and loving and understanding, you just need to have the end result in mind that this student will improve and develop as time goes on. I feel that keeping that hope in mind keeps me and the students motivated.
Crier: When teaching students, what moments make you happy?
Marji: I am most happy when I see my students achieving more than they've ever imagined. In Kenya I had a student who had amazing writing skills from the very beginning. He always brought his writing to life, so I once told him that he might become a great writer. Many years later, I got an email from him, asking me to read the first chapter of his book. It was so encouraging, and I think these happen when teachers believe in the students that they can be more, despite their family life, economic situation, or language barriers.
Crier: If you weren't a teacher, what would you be?
Marji: I would be an interior designer. I love working with small spaces and creating life into something that was dark and squeezed. When I was in Kenya, I had a very small ESL classroom, and I loved decorating it. I've also designed a Montessori School in Sudan and had a cafe at a doughnut shop in Kenya.
Crier: What is something that you've regretted through your high school experience? Do you have any advice for students?
Marji: I regret that I came into high school being someone that I was not. I wanted to fit in with others, and I've done many wrong things. At the end, I realized that none of my friends actually cared about me. I fell under a lot of peer pressure. With that, I would advise students to stay true to themselves. You need to focus on yourself.
Crier: Do you have any messages for the students?
Marji: I would tell students to get out more. Go run, go ride your bike, and stay away from the computer when you can. Go see your friends, join a club, and come to school. We'd love to see you.