Clubs host vintage Conant spirit wear sale in support of WINGS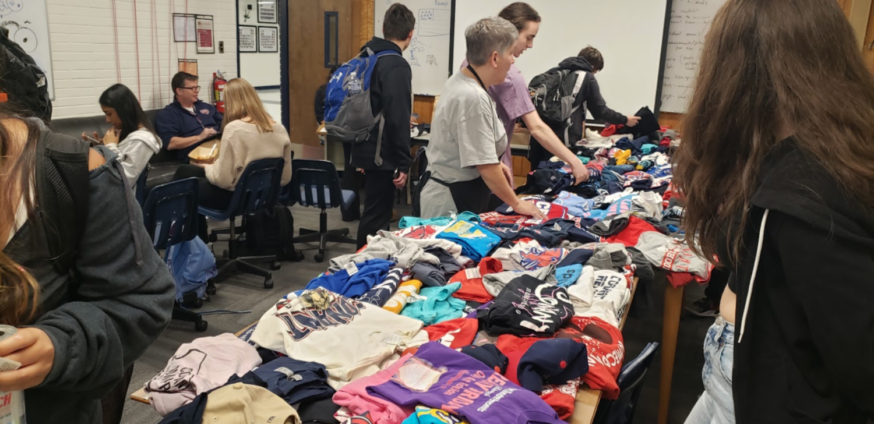 Jessica Pfeifer | Conant Crier
During lunch periods today, students and staff stopped by the Activities Room (151) to survey and purchase old Conant merchandise. 
The products, which are being sold via silent auction, ranged from colorful t-shirts for an assortment of clubs and events, warm hoodies and windbreakers, baseball caps, and more unusual items like a popper bowl shirt and an AP Euro shirt featuring a guillotine. 
"It's a chance to see some fun items and buy affordable spirit wear," David Moravek, sponsor of Student Council, said.
Most t-shirts cost less than $5, while hoodies and jackets cost between $15 – $20. This provides students with the opportunity to acquire a large variety of school spirit wear for far cheaper than what is typically available in the spirit wear store.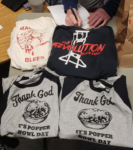 Jessica Pfeifer | Conant Crier
The Vintage Sale was organized by Students Supporting WINGS, RISE, and Student Council. All proceeds from the sale go to the WINGS Program, Inc., which aims to provide housing, integrated services, education and advocacy to end domestic violence in Illinois. At Conant, Students Supporting WINGS is a relatively new club that aims to support and promote the WINGS mission.
"It makes me feel proud that I'm helping support an often overlooked cause," Ken Conocido, '25, said. 
This event mirrors what WINGS does to raise money, as they have a few resale stores in which 100% of proceeds go back to helping their clients.
Further inspiration for the event came from Moravek. "I was at a meeting with activity sponsors from around the state, and this idea was shared by Vernon Hills High School as something they did to have fun, raise awareness and money, and have some fun with their students," he said.
If you missed the sale today, this event will continue into lunch periods on November 21 and is a great way to embrace the season of giving.