Conant to host its first Operation Snowball retreat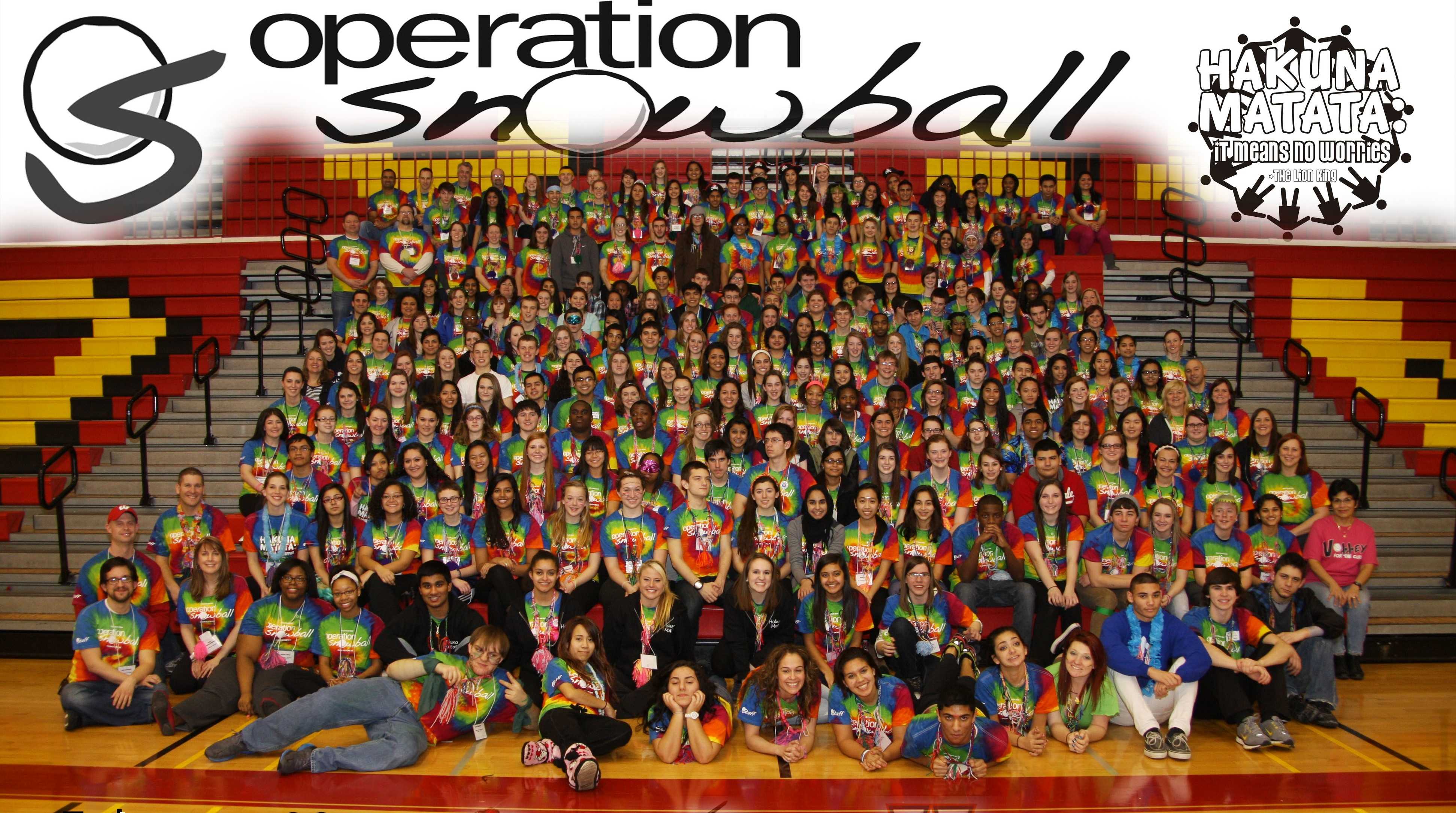 In cooperation with Schaumburg (SHS) and Hoffman Estates (HEHS) High Schools, Conant will be hosting its first Operation Snowball (OS) retreat Saturday, April 18 from 7 am to 11 pm. This will be the third annual "South Side Snowball," and students from all three schools are welcome to attend this daylong event.
Rick Bauer, an advisor for Conant's OS  and guidance counselor for the Blue Team, says that although there are about 140 chapters of OS throughout the state, the mission is all the same: to strengthen positive peer pressure. Operation Snowball is a program that allows teens to make a positive impact on their peers at school and in their community. Though the program is rooted in drug and alcohol prevention, the main foundation of the program is about "building a positive peer culture that sends the right message."
Senior Chase Dorn, the executive director of communications who is responsible for planning the event, said, "OS is a club/event that advocates the fact that young people can make responsible and healthy life decisions when provided with factual information and support. It encourages acceptance and diversity among students."
Senior Kishan Patel, an executive director, explained, "Students experience one of the most powerful and memorable moments of their high school journey [here]. The friendships that are created and the close bonds that are formed within this retreat last more than a day; Snowball becomes your family."
Jake Levinson, an assistant counselor of Positive Youth Development at Kenneth Young Center, said, "If anyone's on the fence about whether they think it's going to do anything for them, [the program does] change lives. It changed my life."
On the day of the retreat, participants are in groups with about 10 other people and two group leaders. Junior Amanda Locascio, associate director in charge of programming, said that as a staff leader "you have your own group and lead the discussion, but eventually it sort of feels like everyone's on an equal level and you're just having a conversation."
Senior Chandler Lantern, the director of public relations, said, "It's just a great place to be; it's a lot of positivity and it's a great atmosphere."
Dorn explained, "I won't say too much about what exactly goes on at the retreat; students will have to go and experience it for themselves, as it really is an indescribable experience. But I will say that students can expect motivational speakers, friends, food, and tons of fun activities."
This year's speaker is Javier Sanchez, an author, performer, and filmmaker. According to youthtoyouth.net, Sanchez has been an advocate for young people and encouraging teens to realize that once they catch a vision and a sense of purpose for their life, there are no limits to their potential. With stories from his own life, Sanchez sends positive messages to young people while keeping his audiences entertained with his comedy and music.
In regard to how OS staff members prepare for the big retreat, Patel explained that the directors meet every other week on Thursday mornings, and the entire staff meets the other Thursdays.
Patel added, "The entire South Side OS also trains monthly in order to prepare ourselves for the retreat. At these trainings, we do team-building activities, reenact possible scenarios and how to approach [the participants], and of course, eat a ton of energizers!"
Brent Swolsky, an OS advisor and a guidance counselor at SHS, said, "I came back to education from financial services because of about three years' worth of volunteering at an OS retreat of another high school. I saw the impact that it had on kids from all different walks of life, and that inspired me to change careers."
Angelica Cordova, an OS advisor and a guidance counselor at HEHS, explained, "It's been a positive experience not only for me but for students as well. I have not met one person who've said they had a horrible time or that it didn't make a positive impact on them."
Cordova continued, "I think what inspires us all to be advisors and to help students is not only that [OS] is changing students' lives, but it's changing our lives as well."
Bauer said, "This is not just a program for students who struggle; it's not just a program for students who are looking to bolster their college applications; it is for everybody. It's a program that accepts everyone."
Registration is open until Saturday, April 4 or until the first 100 students have registered, whichever comes first.
A registration fee of $25 is due Saturday, April 4; this will include breakfast, lunch, dinner, a t-shirt, and materials for the day. If there is a financial issue, students should contact Bauer at 847-755-3672 or [email protected].
Click here to see South Side Snowball 2013 and here to see last year's promotional video that HEHS OS members made. To learn more about the history of Operation Snowball, visit www.os-iti.org.