Conant girls gymnastics off to Sectionals with record-setting performance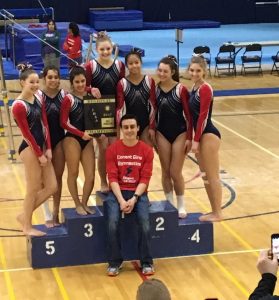 courtesy of Sydney Tong
The Conant girls gymnastics team is heading to Sectionals on Feb. 7 at Fremd High School with the season's highest score, 144.15, at the IHSA Regionals.
The team faced a tough meet last night with a lot of pressure and a couple of slips on beam. However, the team didn't let that break their confidence and motivation.
Varsity coach, Anthony Avella, hopes to do better at Sectionals and qualify for State. "We wanna be better than [the] best because we can," Avella said.
Last week the team ended their 11-year-old conference championship drought with an impressive win at the MSL conference meet. Sydney Tong, '19, who competes on bars and beam, said, "It felt really good because afterwards I knew that all of our hard work was paying off."
Mel Meyrick, '17, won the all-around with a score of 37.775. Seniors Isabella Ostrowski and Mariana Vazquez-Rosas, junior Bailey Bloom, sophomore Sydney Tong, and freshmen Julia Betts and Kennedy O'Connor also had strong performances.
Come out and support the girls gymnastics team at Sectionals on Feb. 7 at Fremd High school at 6:00 p.m.!