Why District 211 shouldn't make the COVID vaccine mandatory for students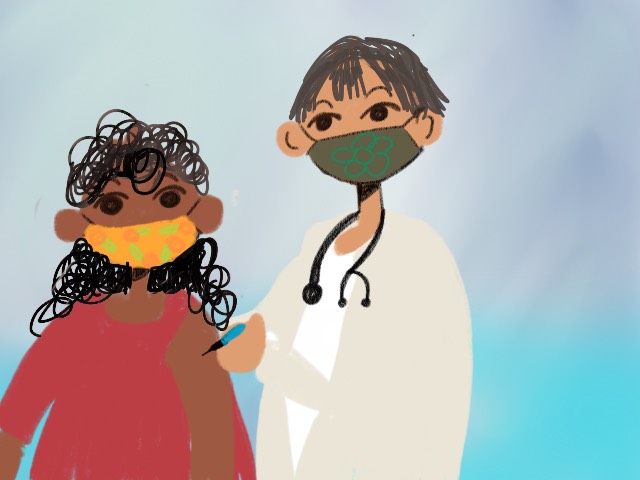 Amelie Pineda
Ever since the COVID lockdown of March 13, 2020, after almost a year and a half of remote learning, normalcy was long overdue. To safely accommodate the entire student population, and to comply with the current COVID-19 mitigation regulations, a series of safety measures have been imposed on schools in the state of Illinois, including Conant. Despite these precautions being in place, there are still students who wear their masks under their noses and have little regard for social distancing, thus establishing a breeding ground for disease. This raises a controversial question: should our school district make the COVID vaccine mandatory for all students?
Though making COVID vaccines mandatory may curb the number of COVID cases in our school, taking away a parent's right to choose whether or not they want their child to take the vaccine is simply a recipe for disaster. However, this doesn't mean that people shouldn't get vaccinated if they so choose.
Considering that the shots for the younger population are relatively new, many parents are reluctant to have their kids vaccinated right away. According to the Kaiser Family Foundation, 88% of parents of children ages 12-17 are concerned to an extent about the long-term side effects of the vaccine in children, and 23% want to wait to see how the vaccine works on other kids. Though these parents haven't gotten their kids vaccinated yet, many are simply waiting to ensure that it is one hundred percent safe for their kids. Parents shouldn't be rushed into getting their kids vaccinated if they aren't completely comfortable.
If schools want more parents to vaccinate their children, parents would likely be more open to the idea if encouraged by trusted physicians or medical professionals rather than being forced to by the district. Making vaccines mandatory will only make parents feel like the state is overstepping its boundaries and infringing on parental authority and decisions. Making the vaccine highly recommended is much more feasible than requiring it for all. 
Moreover, if herd immunity is a motive for mandating vaccine requirements, it makes more sense to fully vaccinate adults instead of kids. COVID is much more lethal for adults, so efforts to increase vaccination numbers should be directed towards the adult population rather than kids. According to WebMD, to effectively curb the virus, 70-90% of the population has to be vaccinated. Moreover, USAFacts has indicated that 53.6% of our population has been vaccinated so far. However, according to statistics from the Federal Interagency Forum on Child and Family, only 22.1% of our population is between the ages of 0-17. Kids should not be required to help achieve herd immunity, considering that the majority of our population is adults and have a greater mortality rate to COVID. 
Sure, kids can still spread the virus to adults, but it is more practical to target vaccines towards the population that is heavily impacted by COVID rather than mandating vaccines on a population that could only indirectly spread it. If a majority of all adults and kids whose parents feel comfortable with the vaccine get fully vaccinated, herd immunity could become a real possibility without requiring vaccination for students.
 On one hand, making the vaccine mandatory will slow the spread of COVID in our schools since some high school students will never fully obey COVID regulations. However, only 2 out of over 2000 students at Conant have had positive COVID test results from September 6 to September 10, and six students tested positive from September 20-24. This means that less than 0.5% of our student body has gotten the virus in this time frame, and this doesn't mean that they contracted it at school: it could have also been contracted through external sources such as the grocery store or a friend's house. Even though COVID-19 is something that should be taken very seriously, the District 211 COVID dashboard suggests it is currently not a glaring problem at our school. It's not worth stirring up controversy in order to prevent the spread of a virus that has only affected a relatively small facet of our student population.
It is important for District 211 to consider the potential consequences of mandating vaccinations. District leaders should consider the pushback that may be voiced in protests or public comments offered at board meetings, potentially creating hostility within our community. 
Though there are other vaccines that are required for school, these vaccines have been around and tested for much longer, fostering more trust from parents regarding their safety. Parents and students need to be given a choice, especially because vaccination is something that can be daunting for many.