Self defense classes demand fighting chance in school curriculum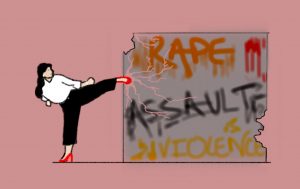 Mauli Patel
"At some point in your life as a woman you will flash across a predator's (mainly male) radar as prey. You will be attacked. You will be alone and you will be vulnerable. And most likely, it will come from one you least expected. The next question, what will you do?," Angie M. Tarighi said on Women's Self-Defense Institute. If self defense classes were implemented at schools, you won't have to ask yourself this question. Self defense units Physical Education would teach high school students how to fight back when facing this situation.
Self defense courses should be more of a focus for students because they are at a higher risk of being attacked. According to the Department of Justice, "Teens 16 to 19 years of age were 3 ½ times more likely than the general population to be victims of rape, attempted rape, or sexual assault." Teens would have a less chance of being victims if they were taught how to protect themselves. School systems make a poor choice by not making a self defense unit mandatory in all P.E. courses.
Self defense lessons have been provided by a few Conant clubs in the past, but people may not have noticed the advertising or not have been able to attend these infrequent one-time events. In order to be effective, they should be taught as a unit in all P.E. classes. This would ensure that all teens are prepared to save themselves.
Learning self defense in Physical Education classes would be a better use of time than learning unnecessary skills. An example of a useless unit that we do at Conant is square dancing. No student will ever need to know how to Do-Si-Do; however, a large percent of people will come across an attacker in their lifetime and will need to know how to protect themselves. Students play impractical sports during P.E. when they could be learning useful skills, such as how to fend off attackers.
People may think that it would be a waste of time to learn self defense because they would not use it later in life. On the website https://www.myselfdefensetraining.com, people share their stories about a time they were attacked, and how the knowledge of self defense helped them tremendously. One man tells his story of when his self defense class came in handy. A man approached him and attempted to rob him. "As he reached for me I attacked him immediately with the Self Defense Training System. It only took 3 or 4 shots and he was out like a light," Kevin Jones. This exemplifies the need for students to have the knowledge and ability to defend themselves if they came face to face with an attacker.