Best and worst back to school reads
Once the school year starts, it can be harder than ever to find time to curl up and read something that isn't a history textbook. That being said, the last thing you want to do is waste time on a story that's less than amazing. Read on for some titles worth checking out and to find out what highly hyped books may best be left alone.
Recommended reading
"The Boy Meets Girl Massacre (Annotated)" by Ainslie Hogarth
Hogarth's latest novel is not for the faint of heart. It is the diary of a girl who was brutally murdered while working the nightshift at a supposedly haunted hotel. The book was sent to a Hollywood director by a retired detective as a movie idea, so the diary is occasionally supplemented with the director and detective's annotations.
The multiple perspectives made the story fun to read. The diary's author, 16-year-old Noelle Dixon, takes up her job to escape her pathetic father, and she soon finds that the rumors about ghosts in the hotel just might be true. Hogarth manages to make you feel as if you are reading a horror movie, and there is constant suspense along with frequent graphic and gross imagery. While it's a very fast read, the questions left behind by the ending will be on your mind for much longer.
"Sophomores and Other Oxymorons" by David Lubar
This is a companion book to "Sleeping Freshman Never Lie," and while each can stand alone, it's best to read both. "Sophomores and Other Oxymorons" tells of Scott Hudson's sophomore year of high school. He thinks he has everything figured out after a rough freshman year, but he soon realizes that being a sophomore comes with its own set of challenges. The sequel isn't quite as funny as the original (which had several laugh-out-loud moments), but the plot was still highly entertaining. By far the best thing about both books is Scott's witty, honest voice, which vividly brings to life a very relatable high school experience. Scott's averageness makes him the perfect character to root for in this familiar setting.
Not worth your while
"Challenger Deep" by Neal Shusterman
Shusterman has been a big name in young adult fiction for a long time, writing iconic and strange stories like "The Schwa Was Here" and popular series, including "Unwind" and "Everlost." His impressive career made "Challenger Deep" all the more disappointing to read.
It's unclear from the description in the jacket, but the story essentially chronicles the struggles of Caden Bosch as he faces an undiagnosed condition that seems to resemble a mix of schizophrenia and paranoia. The subject matter is well dealt with, but the story lacks a plot to move it along. The chapters rapidly shift from Caden's intricate hallucinations to scenes of Caden's hospitalization, and the effect makes for a jumbled reading experience that is simply not enjoyable. Despite its high acclaim, the story ultimately is confusing, boring, and not worth reading, though nearly any of Shusterman's other works are a safe bet instead.
"Everything, Everything" by Nicola Yoon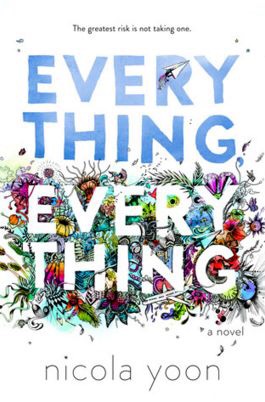 This looked like a promising read from a new author, but it was unable to deliver on its seemingly unique concept. The story follows Madeline Whittier as she slowly falls in love with the boy next door, Olly. The problem? She isn't allowed to go outside due to an immune system disease that makes a simple walk to Olly's house potentially deadly. The book's issue, though, is that it's extremely predictable.
Also, Madeline as a character isn't very well developed. As readers, we are supposed to believe that she has never had an issue with her boring life of being confined to her house until she meets Olly, which is a bit unbelievable (surely an 18-year-old would show some interest in the outside world without having to meet a cute guy). Yoon missed the chance for a more thoughtful study of the effects of Madeline's isolation. The book may have been cute, but it was so cliche that it didn't bring anything new to an already crowded genre.