High School Musical to wow Conant crowds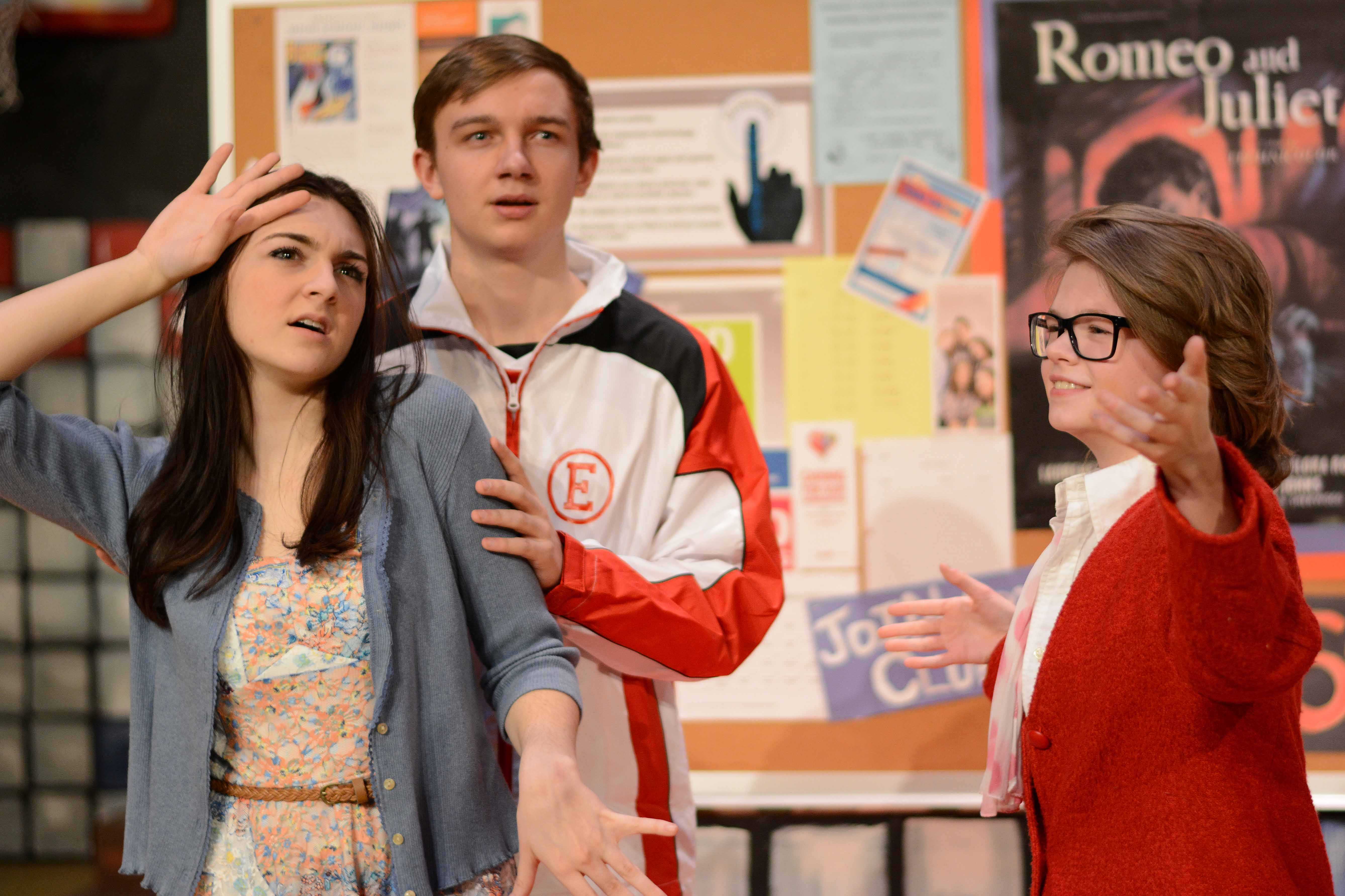 Image Credit: Jacob Iwaniuk
The Conant drama club will bring to life the classic Disney channel original movie, High School Musical, on February 26 and 27, and March 4 and 5 at 7:00 p.m. A matinee will also be held at 3 p.m. on March 5.
Tickets are $10 and can be bought in the cafeteria on February 22-29, online here, by phone at 1-866-967-8167, or at the door on show nights. Thad Gentry, marketing volunteer, advised students to buy online to ensure getting a seat.
The exciting musical tells the story of the drama and social cliques at East High School. Jock Troy Bolton (played by Chase Fahy) comes back from winter break with his new girflriend that he met on a ski trip, Gabriella Montez (Hannah Lullo). The it-couple shocks the school when they audition for the school's musical, a spin-off of Romeo and Juliet written by shy student Kelsey (Molly Holcomb). This infuriates siblings Sharpay (Cassidy Murphy) and Ryan (Payton Kaye), who aren't used to sharing the spotlight. Along with Troy's friend Chad (Ben Hyde) and Gabriella's friend Taylor (Cami Myers), the students will have to work through their issues to take a stand against the status quo at East High.
The musical is directed by Tim Koll, with Danielle Zyrkowski as choreographer. Kreg Moorhouse will direct the live band made up of student musicians.
"I want to say thank you to Danielle and Mr. Koll for making High School Musical an awesome last musical," said senior Hannah Lullo.
The cast has been working hard since winter break to put together an amazing show. Cassidy Murphy, a junior, said that rehearsals "always have a lot going on. We all feel super relieved when we have a good day and get a lot done. By 6:00 we are all tired, but really happy."
To a non-thespian, memorizing lines may seem like a daunting task, but the leads have a tried and true way to get it done. "I don't have a ton of lines, but I learn them by practicing with my mom," said sophomore Payton Kaye. Junior Chase Fahy also said he ran lines with his mom.
Senior Sophie Nevel, who plays Ms. Darbus, said she began practicing for her audition weeks before the show. "I looked up a PDF of the script so I had a good idea of what I might have to do. I was so excited to get a role this year; I felt like I deserved it after being in the musicals for four years." She also described this year's cast as "a family, and the auditorium is like a second home."
Fahy said that rehearsals are the "happiest part of the day. It's crazy but extremely fun."
Since High School Musical is a familiar story to many students at Conant, there will be many songs the audience will already know. "I think students will enjoy the song 'Status Quo,' since it's a big song and dance with a lot of the cast," Lullo said. "My personal favorite scene is my duet with Troy."
"'Getcha Head in the Game' is a lot of fun because there's so much energy in it. It took a long time and a lot of hard work to get it right," Fahy added.
Excitement and expectations for the opening night is high. Nevel added she hopes for a large turn-out, and that "the audience plays a big part in the show. How people react to the show at funny parts, or during the dance numbers can help fuel our energy."
Check back soon to see a behind-the-scenes gallery of the sets and actors during rehearsal!