Young artist Omar Apollo releases unapologetic EP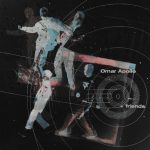 Image from Genius
Omar Apollo is a young heartthrob straight out of Hobart, Indiana. He appears on most of his single covers holding his stark white electric guitar seemingly ready to play for anyone who walks by. In 2018, he released his first EP, "Stereo," which contains mostly unapologetic and croony ballads with strong R&B influences. On April 10, Apollo released his second EP, "Friends," which builds on this confidence, but is much more introspective, experimental, and masterful.
In "Stereo," Apollo scratched the surface of funk with songs like "Lucky" and "Ignorin" but he still held tightly onto his guitar, with soft ballads dominating most of the EP. With "Friends," Apollo is a lot more experimental and risky, not only with genre and style, but his voice.
The EP starts off with the songs "Ashamed" and "Kickback," both unapologetic and establish Apollo's self-love, setting the tone for the rest of the project. Both songs ooze with confidence, and Apollo employs a strong, assertive bassline to define this new era.
The next three songs, "Friends," "There For Me (Interlude)," and "Hearing Your Voice," are a trip down memory lane, as they are in Apollo's classic, guitar-heavy style. All three reflect about his previous relationships and unrequited love. This time, however, Apollo wears his heart on his sleeve and acknowledges feelings he had been ignoring before. This is different from "Hijo de Su Madre," a catchy track from his last EP where he proudly sings about stringing a girl along. In this new EP, Apollo seems to take accountability for his actions and even croons, "Lately it's been me," when describing troubles in a relationship in "Kickback." In this part of the EP, Apollo is introspective, coming to terms with the fact that the protective shell he bragged about in "Ashamed" was the reason for many of his broken relationships.
If there is one track in this EP that defines Apollo's artistry, it would be "So Good." This song showcases his improvement as a musician. "So Good" is stylistically the most different song in the EP. In fact, if one didn't know better, the song could be mistaken to come straight out of the '80s. Apollo expertly blends disco and funk to create an upbeat rhythm, a much-needed reprieve from the previous deep and reflective ballads.
In the last song, "Trouble," Apollo returns to the pensivity that makes up half of the album. In this track, he ends by reflecting on the mistakes he has made by letting a previous love go. He shows us that he not only has matured as an artist, but as a person, taking accountability, changing what being unapologetic means to him, and leaving determined to navigate life ahead.
Defining lyric: "And I'm older now, but I'm still young and I got many, oh, many years to come."
Favorite tracks: "Kickback," "There For Me (Interlude)," "So Good"
[print-me]