TWICE's new second album 'Eyes Wide Open' sounds like K-pop we have heard
TWICE released their second album ''Eyes Wide Open" under JYP entertainment on October 26. ''Eyes Wide Open'' came four months after TWICE's successful ninth mini album, "More and More", which was released in June of 2020. 
'Eyes Wide Open' focuses on three main themes: story, style, and retro. The album has 13 songs, with "l Can't Stop Me" as the title track. However, even though this is a new album, it sounds oddly familiar! In this review, TWICE's new album is going to be compared to other famous K-pop songs.
Album Comparisons
The first comparison made is with the title track, "I Can't Stop Me." The "I Can't Stop Me" music video beginning duplicates Ateez's "Answer" music video ending. The music video starts with the TWICE members sitting at a large table surrounded by a dark background. We can see that the amount of members has doubled, so when they are sitting at the table, they are seeing a reflection of themselves. The same thing goes for Ateez's "Answer" music video ending, where the boys sit at a large table surrounded by a dark background and they are doubled. 
Speaking of backgrounds, TWICE'S  music video platform for "I Can't Stop Me" is very similar to Blackpink's "As If It's Your Last". For the "As If It's Your Last" music video, Blackpink had stairs in the background with pink surroundings, while in the "I Can't Stop Me" music video, TWICE had the same stairs only differing with a yellow background.
Apropos of Blackpink, TWICE gave every indication that some tracks in their album were inspired by Blackpink's recent album, "THE ALBUM." TWICE paralleled the concept of "being yourself," in the seventh track "Queen," resembling Blackpink's b-side track song, ''Pretty Savage." Another inspiration can be heard in the eighth track "Go Hard" with an Arabic beat similar to the one in "Crazy Over You" from THE ALBUM. 
Lastly, "Behind the Mask," the thirteenth track which was co-composed by Dua Lipa, has a similar emotional vibe to "You Never Know" from THE ALBUM. Both "Behind the Mask" and "You Never Know" are written to haters telling them that no one really knows what goes on in an idol's life. They might be smiling in front of the cameras; however, after they come home, we never know what goes on.
Album Highlights
Putting the mistakes and similarities aside, ''Eyes Wide Open'' is an album of success for TWICE. There was a retro-style concept that made this album unquestionably unique. "We went for a 90's magazine look for the photo shoot. It's our first time trying retro, so it feels really special and it will be a fresh change for our fans" (Jihyo, the leader of TWICE, stated this in their Jacket Film Making).
What makes this album special is the fact that TWICE members have written 6 out of 13 tracks of this album, which is something new for ONCE (TWICE'S fan name). This is the first time that TWICE included their own style in any of their songs. "Up No More" was written by Jihyo, "Do What We Like" was written by Sana, ''Bring It Back" and ''Queen" were written by Dahyun. Chaeyoung wrote ''Handle It" and Nayeon wrote ''Depend On You".  
Final Words
In just a short period of time, TWICE was able to create an album with great songs in different genres, and what's even cooler about it is that this album is different from TWICE's regular "cute" concepts. The songs are mature, strong, and have an old style. 
The choreography was energetic and organized, and thanks to the hairstylist, makeup stylist, and outfit stylist, we were able to see TWICE in a new image with bold and mature outfits, makeup, and hair. The title song and the b-side tracks are lively and unique, shining light on why ''Eyes Wide Open'' is certainly worth listening to!
Tracklist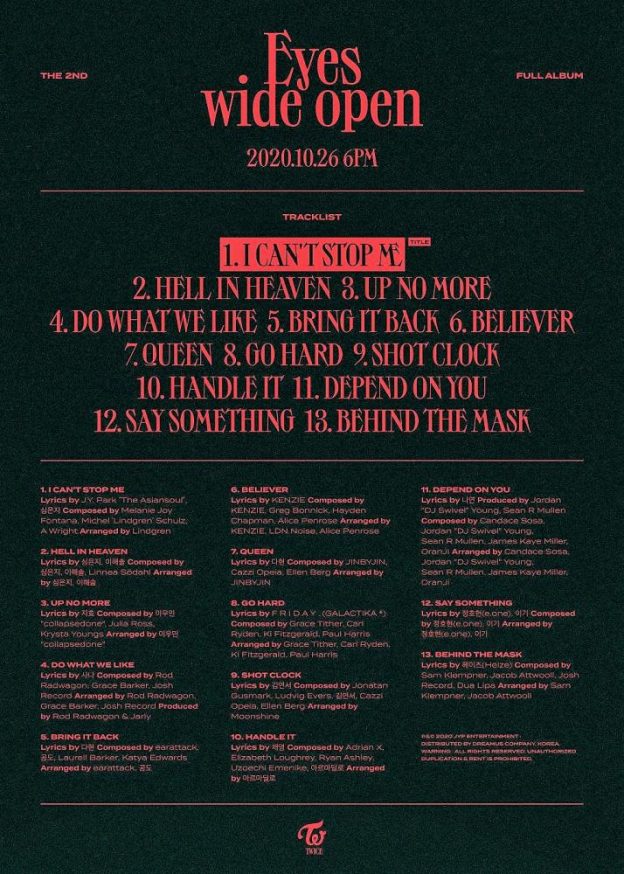 From JYP Entertainment under fair use