Conant community responds to new grading system
Conant High School, along with the rest of District 211, has recently finished its first semester with a new semester grading system, similar to the grading system used in colleges and universities.
Many teachers found this new system beneficial, while some students said that they prefer the quarter grading system over the semester grading system.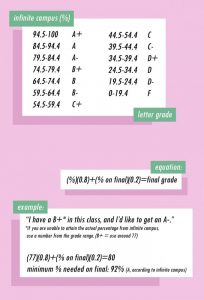 Futo Wada | Conant Crier
Math Department Chair Derek Fivelson said, "I do like the semester grading system better. Having an artificial start-over point during a semester never made sense. It was originally there to report a grade to parents, but since grades are available 24/7 on Infinite Campus, updated grades should be available all the time."
Fivelson then went on to say how he had no concerns for the system and, instead, thinks the new system better reflects a student's grade.
Spanish teacher Brian Drenth explained that the switch in grading systems was to create a more comprehensive overall grade. "We went into semesters to give the kids a more rounded opportunity."
Both Fivelson and Drenth were involved in the grading committee that chose to implement this system.
Other faculty members had similar opinions about the changes this year.
Assistant Principal Mark Langer said, "The semester grading system is better, in my opinion, because it better shows a student's progress."
Langer also said that the new semester system gives a longer grace period for students to bring their grade up or down for students who got one bad grade.
Social studies teacher Vaishali Tajpuria said, "It is easier than the quarter system so I am happy with it."
While many teachers liked the implementation of the semester grading systems, parents and students have different views.
Hemalatha Venkatraman, mother of Bhavya Shivshankar, '20, said, "I believe the new system is beneficial in terms of its longer grading period, without the quarterly divisions. However, the new percentages can be a little difficult to understand, and calculating final grades necessary was a challenge."
Some students feel the quarter system gave them a better chance at getting the grades they wanted.
Morgan Suffredin, '18, said, "Personally, I prefer the quarter grading system. The quarter grading system gave me a better wake up call as to where my grades are and what I needed to do. These grades seem set in stone and it's much harder to bring them up or down."
"The semester grading system makes it harder to maintain the grade you want," Regeena Gemilo '19 said.
Other students, however, like the idea of having a longer period of time to get their grades up.
Sahithi Ankireddy, '21, said, "I like the idea of having a whole semester's worth of time to bring my grade up, in case anything goes wrong in the middle."
Khushee Thakkar, '18, said "The semester grading system gives us more time to finish up pending assignments."
Another change this year was a shift in the percentages used by Infinite Campus from 10-20% intervals.
Now when a student has a B in a class it registers anywhere between a 60-80% instead of being from 80-90%.
Also teachers now put in letter grades instead of point values. For example, when a student gets an 86% on a test, a teacher takes that and only inputs a "B" into Infinite Campus.
Thakkar commented on her preference for the new percentage system. "I like the new percentage increments too; it makes more sense to me," she said.
The new grading system is still in its first year and some feel it will get better with time.
Math teacher Richard Cortez said, "For those that have never used this type of system, there is a definite learning curve that will lead to questions. Once answered, I am confident that the vast majority of teachers, students, and parents will understand the system and agree that it works well."