New Teacher Profile: Kevin Garvey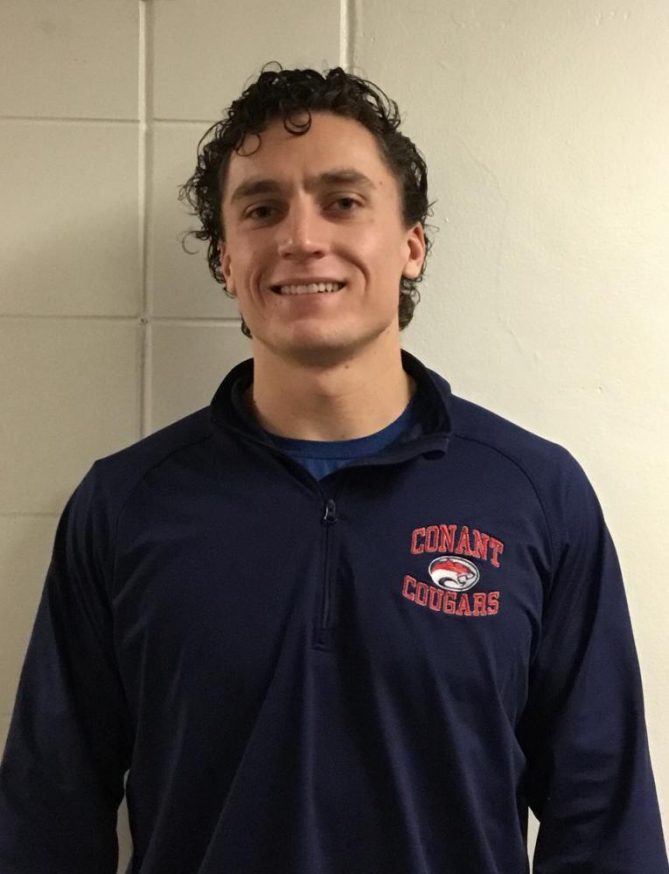 Shreya Deshpande | Conant Crier
The Crier is conducting interviews to get to know the new teachers at Conant. This week, the Crier is featuring social studies teacher Kevin Garvey.
Crier: What classes do you teach?
Garvey: I teach U.S. History, Advanced Placement U.S. History, and SAT prep.
Crier: Why did you choose to become a Social Studies teacher?
Garvey: There's many reasons. I had great Social Studies teachers that were very influential and impactful on my life, and they also had great enthusiasm.
Crier: Do you have a favorite topic in Social Studies?
Garvey: It changes on what I am reading. Right now I am reading "The Gilded Age," which is all about corruption.
Crier: Can you describe your first day of teaching? How were you feeling?
Garvey: I was nervous, anxious, and also excited.
Crier: What's your favorite thing about teaching at Conant?
Garvey: The kids. They are certainly a good group of students that are excited to come to school, and they are fun to interact with.
Crier: What is a hobby of yours that not many people are likely to know about?
Garvey: I fish when I have time. I did it a lot over the summer.
Crier: What sports/activities did you participate in during high school or college?
Garvey: I played a lot of sports. Growing up I played basketball, football, baseball, and soccer. In high school I played baseball and football. In college I played baseball.
Crier: If you could be any animal, what would you be and why?
Garvey: I would be a silverback gorilla because they are strong and powerful, and they have thumbs so they can still pick things up.
Crier: What movie universe would you most like to live in?
Garvey: I think Harry Potter would be cool with all the magic. They have cool potions and candies.
Crier: If you weren't a teacher, what would you be?
Garvey: I would probably be something in athletics. Maybe a trainer, or something in college baseball.
Crier: What advice would you give to students that want to pursue a career in teaching?
Garvey: Keep an open mind, and really explore why you want to teach and what subject you want to teach.