'Forgive Me, Leonard Peacock' sheds emotional light on teenage suicide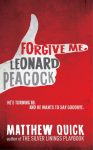 Image from Goodreads.com under Fair Use.
The book "Forgive Me, Leonard Peacock" by Matthew Quick deals with the heavy topic of teen suicide in a realistic, touching way. "Forgive Me, Leonard Peacock" is a monumental book about a boy (Leonard Peacock) who is contemplating suicide, and it takes the reader through a journey to show how Leonard came to the decision to commit suicide and how he says goodbye to friends.
The book is the better and more intense version of "13 Reasons Why" because instead of romanticizing suicide, it makes the problems of the modern teenager more realistic and relatable, like feeling trapped and lost. The author reinforces Leonard's character by making him relatable with his struggles with his home and school life.
"Forgive Me, Leonard Peacock" also deals with intense topics, including sexual assault and social alienation. The book has a good message that is realistic, such as life will get worse before it gets better.
The backstory to Leonard is that he has a mom who leaves him alone while she goes to New York to be with her boyfriend, and she has little concern for Leonard. Leonard has two real friends: Walt, an old man who he skips school to watch old time movies with, and his history teacher, who cares for Leonard a great deal. When Leonard says goodbye to Walt, you really get a sense of bad his depression is, causing the reader to feel sympathy for Leonard.
During the climax after the reader learns about Leonard's tragic past, the book starts to make an unexpected twist. Even when the story shows the traumatic experiences he has gone through, the friends he has lost, and the extremely difficult scenes, it handles them with beautifully simple wording that it comes off as a real experience from a real person.
This book, however, is not for people who are sensitive to difficult issues or those who have had traumatic past experiences. This book deals with heavy topics of suicide, rape, and mental and emotional abuse.
If you think you could manage the difficult subjects and are ready to shed a few tears, "Forgive Me, Leonard Peacock" is a great book and is a must-read. Despite the intense topics and scenes, this book is one of the best books I have ever read, and I can't recommend it enough.
[print-me]