The secret of attraction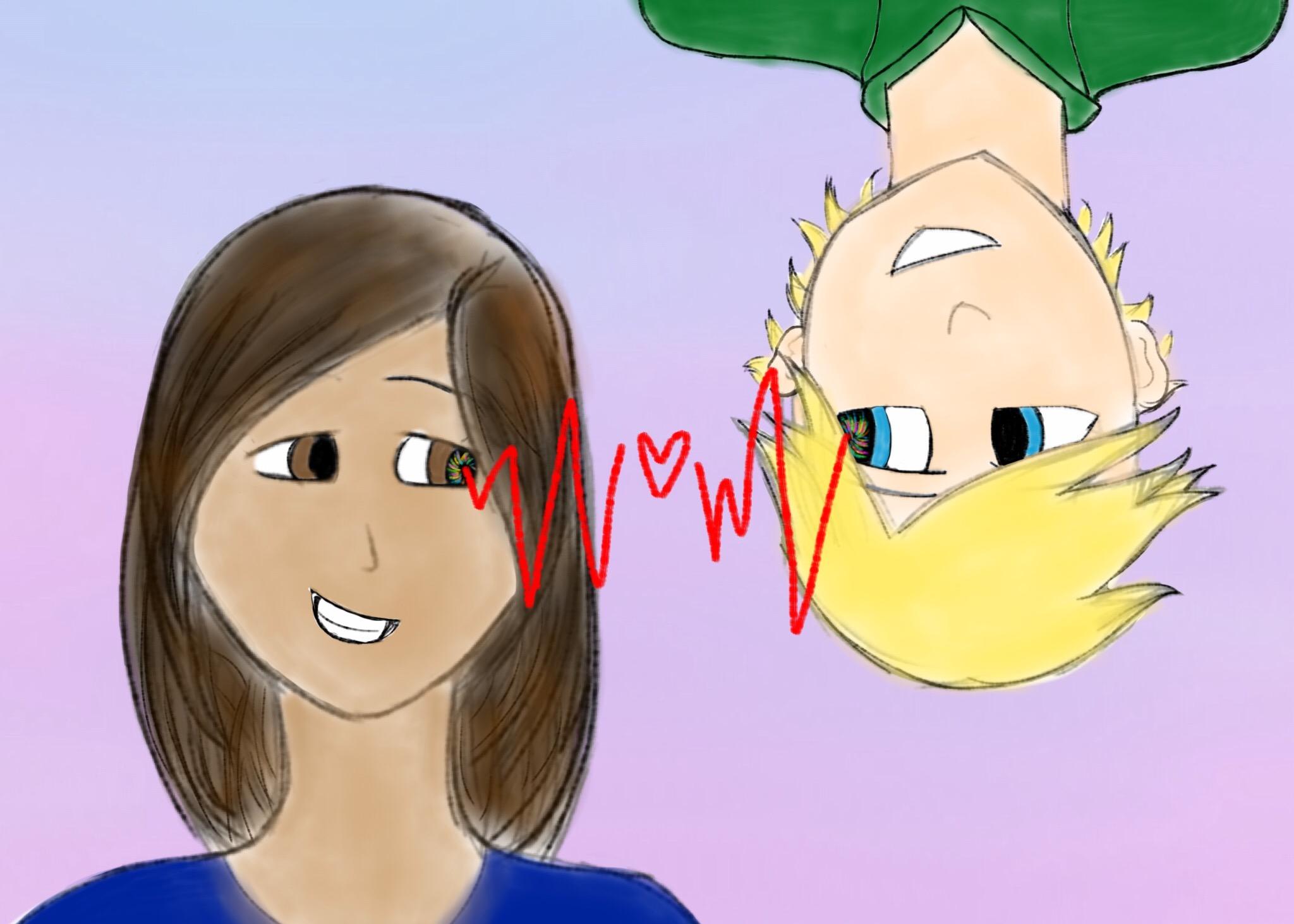 Image credit: Mauli Patel
The month of Feburary is most notably known for one day: Valentine's Day. Couples will be celebrating their love and many of us wonder, "How do they do it?" The Romans believed that Cupid shot his heart-tipped arrows and caused two young soulmates to fall in love. Although this may be the case in many mythological tales and romantic comedies, in reality, there are secrets to attraction and maintaining a healthy relationship. There are a number of factors that go into who we choose to be with, including personality traits, interests, values and physical appearance.
In talking with school psychologist, Felicia Macfarlane, here are three subconscious signs of attraction:
1. Body language
Leaning in while talking shows engagement in the conversation, as does eye contact. Pay close attention to knees, shoulders, and toes. People tend to face towards people they are interested in. Also, pay attention to pupils, which tend to dilate when the person is attracted to someone. Body language is a subconscious, yet an extremely important, sign of attraction.
2. Conversation
Asking personal questions shows genuine interest in getting to know someone. Questions about family, friends, interests, and values are key signs that someone is interested in getting to know you and is potentially attracted.
3. Teasing
Have you ever heard the phrase "They're mean to you because they like you"? In many cases, that statement holds true. Most people often don't know what to say or how to act around someone they are attracted to, and being upfront with their feelings makes them vulnerable. Instead, many people take a more implicit route to express interest. Teasing can be flirting; watch out for certain clues in what they say.
In order to understand how successful relationships work, the Crier asked a few couples about how they keep their relationships happy and healthy.
Brian Beam and Maddy Demaret
Crier: What do you find to be the best quality about your partner?
Beam: Her love of knowledge. It's not just that she's one of the most intelligent people I've ever met, but that she loves information, and she loves learning. I love being able to have insightful conversations with her. Seeing her mind work and hearing her thoughts on the world around us is the most beautiful thing–even if her being a liberal occasionally makes my eye twitch.
Crier: What made you attracted to your partner?
Beam: It was that reciprocal appreciation of knowledge. She was always unique in that we could talk about random topics for hours, and disagree and yet still respect and value each other's opinions. She makes me think, and I love that.
Crier: When/how did you two first meet?
Beam: We met while we were both harassing Mr. Jonen before school one morning. We knew of each other for a couple years, since her sister is my age. We knew each other, but we didn't meet until I was a freshman and she was a sophomore. We had Accelerated Algebra II together that year, and the following year I placed into her German class, so we had German together for the following two years.
Crier: What was your best date?
Beam: There are too many to choose from, but among the best are probably our first date (dinner and an Elgin Symphony Orchestra concert) and our anniversary this year (dinner and the "Nutcracker").
Crier: What is your best memory together?
Beam: My favorite memories are just different times when we were joking around and talking about life and interests, which luckily are fairly common occurrences.
Crier: How do you maintain long distance?
Beam: She is currently going to school at the Catholic University of America in Washington, D.C., and even though being separated is one of the hardest things I've ever had to do, it's made much easier by regularly texting, snapchatting, calling on the phone, and most importantly, FaceTiming. Long distance is easier when you both are confident in your love, trust, and knowing that you'll always have the other whenever you need them.
Crier: Any Valentine's Day plans?
Beam: We both think Valentine's Day is one of the most ridiculous things ever invented. This year we decided that since Hallmark picked their own random, arbitrary day for affection and romance, we would pick our own. So we will be celebrating similar festivities on June 18 instead (coincidentally, we both picked that day independent of each other–so that had to be the date).
Kylie Cosentino and Henry Pelesh
Crier: What do each of you find to be the best quality about your partner?
Cosentino: To me Henry's best quality is how positive and easygoing he is. No matter the situation or how bad of a mood I'm in, somehow he is always there to make me happy.
Pelesh: Kylie's best quality is how genuinely kind-hearted she is. She truly cares about how others feel and always asks how my day was.
Crier: What made you initially attracted to your partner? Is it still the same?
Cosentino: I was initially attracted to him because of how funny he was and how easy it was for me to talk to him. Yes, it's still the same.
Pelesh: Initially, I was attracted to her because of her smile. It's the kind of smile that makes you want to smile, too. Yes, it's still the same and her smile is even better than before because she got her braces off!
Crier: When/how did you two first meet?
Cosentino: We knew of each other in junior high but didn't actually start talking and becoming friends until sophomore year [during our chemistry class]. Sophomore year is also when our friend groups merged together.
Crier: What was your best date?
Cosentino: My favorite one was going to the zoo. I'm obsessed with the zoo and going with him made it that much better!
Pelesh: My favorite date was going to Chicago during the summer. We went on a boat tour and spent the whole day together.
Crier: What is your best memory together?
Cosentino: There are so many! This [past] summer we went to my lake house often and I had so much fun swimming, doing water sports, stargazing and sitting by the campfire.
Pelesh: My favorite of the many good memories we've had together was junior year prom.
Crier: Any Valentine's Day plans?
Pelesh: Shh, it's a surprise!
This February many beautiful couples like the ones above will be celebrating their love. However, many people are also single or looking for love. Love is in the air, and although Cupid may not be floating above our heads, keep an eye out. The signs of attraction might just surprise you.