Conant math teacher named WGN's Teacher of the Month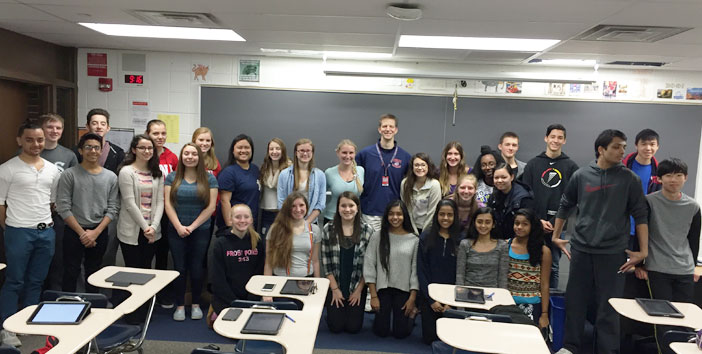 Conant math teacher Stephen Kurfess was named WGN Chicago's Teacher of the Month on Wednesday, January 27. He was nominated by sophomores Cate and Quinn Fitzgerald.
"The kids are the best part of teaching," the teacher of 18 years said. "A lot of times I don't call it 'work,' I call it 'school.' I love my job."
Kurfess originally went to school for Engineering at Purdue University but decided that it wasn't his passion. "It was just one of those things when you go to work every day and I look at the clock and say 'ugh, when's it gonna be lunch time, when's it gonna be the end of the day' and I'd be on vacation and say 'ugh, now I have to go back to work,'" the math teacher said.
"It was never fun or happy to go to work; I just did it because I got my degree in it and needed to make money. So I thought to myself, I don't want to live my whole life through forty years of working always doing that. I want something that's fulfilling for me so I enjoy going to work and make an impact," Kurfess said.
One thing Kurfess is known for among his students are his "Life Lessons." "I try to do one class period a semester when I just talk about life. I talk about giving to charities, I talk about donating blood, becoming an organ donor, saving for retirement," Kurfess explained. "I just want to teach them things that are important in life because you have to look towards their future."
Sophomore Cate Fitzgerald said, "My favorite things about him are his jokes and how he makes class fun. Math is a class I look forward to everyday because he's so funny."
Kurfess said he was very honored yet humbled when he was given the award of Chicagoland's Teacher of the Month. "I don't expect any award for anything," he said. "My reward every day is just seeing kids smiling in class. That's my natural high."
Kurfess is also famous for his charity work. Classes always identify him as the one to beat in the annual food drive competition. He is the reigning champion for 'most cans brought in by a 2nd period class.' He said, "I always try to tell my students how important it is to help the less fortunate. Whenever you have the means to give, you really should."
Kurfess is also a huge supporter of Cougars In Need, a Conant charity. He encourages anyone wanting to donate money to a charity to help out Cougars in Need because it helps families within our very own community.
In addition to receiving the prestigious title of Teacher of the Month, every teacher is also awarded a $1,000 check. Kurfess donated every penny to this Conant charity. Fitzgerald said, "Not only is he an incredible teacher, but he's an incredible person because of all the charity work he does."
The math teacher deemed inspiring by students said, "I love my job and the kids are great. Every day flies by and I just couldn't be happier."