How to tame curly, unmanageable hair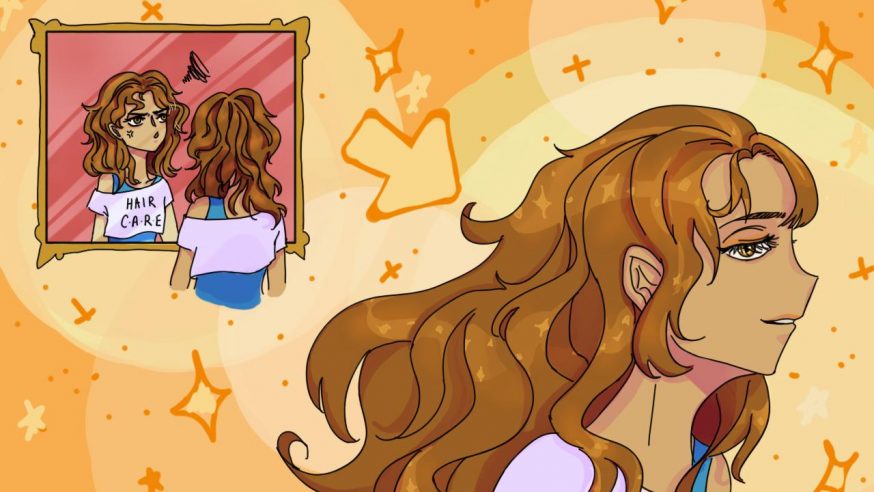 Margaret Zhang | Conant Crier
One of the easiest ways to bring an outfit to the next level is with a hairstyle. But for those of us with curly hair, the thought of simply running our fingers through our hair sounds like a struggle. Approximately 11% of women in the world have curly hair, but only few know how to properly tame it and use it as a charming accessory. Here are a few tips on how to make your hair feel like a gift and not a burden.
Washing Your Hair
A major part of maintaining curly hair has to do with the showering process; small changes in this task can make the biggest differences. For instance, most people detangle their hair after smothering it with shampoo, conditioner, and drying it. Instead, brush it while in the shower. When your hair is wet, it is much easier for the brush to run through. This will also prevent it from becoming frizzy.
Make sure to wash your hair in cool water to help develop silky curls. Cold water clumps the hair together by closing the pores and cuticles in the scalp, creating a shiny appearance. Washing curly hair 2-3 times a week is recommended. Furthermore, using shampoo is not always necessary; some days should be dedicated to a thorough soaking with solely conditioner.
Post-Shower Routine + Recommended Products
Combing through your hair and tugging at it to ensure every strand is detangled strains your roots. To renourish them, apply coconut oil evenly to help tighten your strands. Coconut oil has been proven to avoid split ends, and makes a soft hair texture. This, however, will not preserve your curls completely. Using the recommended products below with damp hair will define your curls:
Pantene Kurling Kreme
Ogx Moroccan Curling Perfection Defining Cream
Shea Moisture Coconut & Hibiscus Curl Enhancing Smoothie and Silk Protein and Neem Oil
Shea Moisture Coconut & Hibiscus Hair Masque
Revlon Flex Gentle Cleansing Shampoo
The instructions on the back of these bottles are crucial to read so that your hair receives the exact treatment it needs. The product you use is often not as important as how much of it you use.
Hairstyles
Curly hair is not necessarily the most compatible for complicated hairstyles. However, with frequent washing and care, these simple hairstyles could become your go-to's:
High Bun. Keeping your hair up and out of your face will make it convenient for you to be active but not have to worry about your hair tangling itself in the process.
Braid. Any type of braid will keep your hair tied together without loosening. This makes it an ideal overnight hairdo.
High Ponytail. Like the hairstyles previously mentioned, keeping your hair tied away from your face makes it look less chaotic. Curly hair has a tendency to look overwhelmingly full, and high ponytails create a bold yet controlled impression.
Leaving your hair down daily calls for periodic maintenance, so consider how much time you have throughout the week to care for your hair.