Spooky Strawberries: no bake Halloween treats
Looking for a simple recipe to make this Halloween? These no-bake chocolate covered spooky strawberries are scary, easy, quick, and delicious. This original recipe is perfect to get you in the mood for the season!
Prep time: 20 minutes
Yields: 10

Ingredients: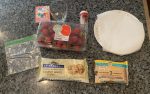 10 Strawberries
¼ cup white chocolate chips
2 tbsp dark chocolate chips
Yellow food coloring
Red food coloring

Materials:
1 microwave-safe cup
10 toothpicks
1 Ziploc baggie
1 pair of scissors
Wax paper
1 plate
1 spoon

Directions:
Pour white chocolate chips into a microwave safe cup and microwave for 30-second intervals. Stir with spoon in between each interval. Continue until chocolate is completely melted.

Stir well and let chocolate stand for 3 minutes.

While chocolate cools, rinse and dry strawberries.

Place 1 sheet of parchment paper onto a plate.

Insert 1 toothpick into the leaf-end of each strawberry.

Dip each strawberry into the chocolate, coating it completely. Place the dipped berry on the paper-covered plate. Repeat until 5 strawberries are coated in white chocolate.

Add 2 drops red food coloring and 4 drops yellow food coloring into the remaining melted chocolate. Stir well.

Repeat step 6 with the remaining 5 berries. 

Add 2 tablespoons of dark chocolate into a microwave-safe Ziploc baggie. Release any extra air in the bag. 

Microwave the bag for 30 second intervals. Press on the chocolate within the bag in between intervals. Continue until the chocolate is completely melted.

Cut a small hole in the edge of the bag. 

Using the dark chocolate, pipe your favorite spooky designs onto the berries.

Chill for 30 minutes inside a refrigerator.

Enjoy! 


Did you try this recipe? Comment below or tag @ConantCrier on Twitter to let us know how they turned out!