The Crier's Halloween Favorites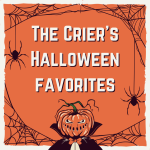 Diya Thomas
Even though 'spooky season' is almost over, it's not too late to enjoy Halloween. Here are some of the staff's Halloween favorites
What is your favorite Halloween/horror movie and why?
"The Nightmare Before Christmas." It's a classic. The animations are amazing and the soundtrack is even better. Ananya Maddulapalli, '23
"The Conjuring" because when I watch it with my friends, we joke so much about it. Neela Gilbert, '23
"The Shining" It's thrilling, not too scary, and keeps me on the edge of my seat. Morgan James, '21
"Corpse's Bride" because I can't handle actual horror movies, and Tim Burton has an aesthetic that is beautiful in its own way. Vasu Janjrukia, '22
What is your favorite Halloween candy? Bonus points if you can explain why.
My favorite halloween candy is probably a Snickers bar. I love the layers of salty peanuts and sweet caramel, and I think it is played together in a perfect balance. I also love Twix because they taste like cookies, Kit Kat's because they are a nice balance of crisp and chocolate, and Almond Joy because I love nuts and coconut chocolate. I also love peanut M&Ms… basically any chocolate candy. Ria Patel, '23
Candy wise, Nerds because I love sugary candy, and it's been my favorite since I was little. Food-wise, pumpkin-flavored ANYTHING (pies, cookies, bread). Maria Ahmad, '23
Reese's. Doesn't need an explanation. Anika Brahmbhatt, '23
What is your favorite type of costume?

Diya Thomas | Conant Crier
What is your favorite Halloween bop?
"Monster Mash" by Bobby Pickett – 4 votes
"Thriller" by Michael Jackson – 3 votes
"This is Halloween" from "The Nightmare Before Christmas" soundtrack – 2 votes
"Spooky Scary Skeletons" by Andrew Gold – 2 votes
Here's the TikTok remix
What's your favorite part of Halloween?
Every year, my three childhood friends would dress up, get together and go trick or treating. We would come back to my house and exchange our candy because each of us liked very distinct ones that the others didn't. It's more about spending time with them than actually getting candy (although that is a bonus). It's a little upsetting that we won't be able to do that this year, but it's a small sacrifice to make in order to stay safe (also considering we're getting kind of old to go trick or treating, this year would have been our last year). Ananya Maddulapalli, '23
Seeing young children happy! Munya Noman, '24
Watching Halloween movies. Anika Brahmbhatt, '23, Ella Saputra, '23, Lina Mheenbeek, '24
The decorations Neela Gilbert, '22, Morgan James,  '21
Do you have any Halloween traditions? If so, what are they?
Our neighbors give us Goldfish and Nesquik chocolate milk for Halloween every year since I was a kid, so I guess you can say that's a tradition. Christiana Kirov, '24
Trading candy with my siblings, so I can see if I like anything and snatch it. Amelie Pineda, '23
I like watching Halloween movies in October. Minnah Saif, '23
Every year I watch "Coraline" on Halloween Eve with a friend and we eat a bag of Halloween candy that's supposed to be for trick or treaters (oops). Maria Ahmad, '23
What's the most underrated part of Halloween?
The fact that it's the only thing stopping Christmas ads from starting in October. Vasu Janjrukia, '23
Scaring people is the most fun, and people don't appreciate it enough. Johanna Selmeczy, '23
That it's a little kid's Halloween, even though it's the best way to get candy. Amelie Pinada, '23
Buying the leftover candy from the clearance aisle the day after. Ella Saputra, '23