Conant clubs participate in second annual Maker Day at Schaumburg Township Library
The Schaumburg Township District Library held its second annual Maker Day on Oct. 15 from 1-4 p.m. Children, teenagers, and adults participated in community organized activities, including from two Conant-run booths.
Conant Robotics Club brought a robot they made to the event because, as Applied Technology teacher Shayna Adelman stated, it's "important to be out in the community and to see what other people are making."
Robotics club member Dean Matsui, '17, explained he "wanted to teach kids about robotics" and that this event was a good way to do so.
Conant Electronics/Engineering Club also brought a car that they made. Applied technology teacher Joseph Tullo said that the event provides "a good experience for kids in engineering."
Engineering Club member Walter Schroeder, '18, believed the event "was good exposure for the community" and would help to "set up a new generation" of makers.
Thirteen-hundred people attended the event, 300 more than last year. The library's Director of Marketing, Hollis Sienkiewicz, explained the purpose of Maker Day is to provide a "hands on" experience to make the event "interactive and engaging."
Third grader Carolyn Zhang said she "loved Maker Day" and thought "the engineering challenges were really fun." She added that she would definitely recommend Maker Day to others.
The most popular activities, according to Program and Outreach Coordinator Kate Niehoff, were the Legoland table in the Kidzone–where children could make creations with Legos–and the Blinkies in the Adult Classroom. The company 2D Kits provided soldering irons so people could make blinking circuit boards called Blinkies.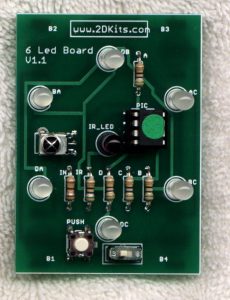 Image courtesy of www.2DKits.com
Fiction Librarian Emily Vinci worked the button-making booth in the Rasmussen Room. She said she wanted everyone to "come away with a feeling that nothing is impossible" and have a piece of wearable art.
Niehoff hopes to create more "large-scale events that people of all ages can enjoy together" after seeing the "community's overwhelming interest in maker culture and technology."
This event kicked off the first annual Maker Month, lasting from Oct. 15-29. Upcoming events included Lego League, Paint a Pumpkin, Animal Science, a Google Cardboard Workshop and Video Creation Workshop. The week of Oct. 23-29 will feature Halloween-themed events like Bricks 4 Kidz, Spooky Art, Halloween Steam, Zombie Makeup and Introduction to 3D Printing.