Cultural Awareness Club holds fundraiser for Ukraine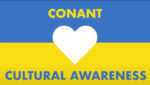 Cultural Awareness Club
Conant's Cultural Awareness Club will be holding a fundraiser to aid relief efforts in Ukraine. During lunch hours on March 31 and April 1, the club will be collecting donations for Ukrainian refugees in exchange for Ukraine stickers to raise awareness and offer support to Ukrainians. 
The idea for the fundraiser came after Cultural Awareness sponsor Amy Spizzirri received a new Ukrainian student in her class. "I imagined that transferring to a new school was hard enough, but then her home country was invaded," Spizzirri said. "As a result, I thought it would be a good way to make her feel welcome and acknowledged and show that Conant supports all its students."
Proceeds will be donated to a humanitarian organization in Ukraine. "The club is focusing relief on the people who were forced to flee to find safety," Spizzirri said. "We hope to specifically focus the donations on relief for children as they are innocent victims of geopolitics."
Spizzirri views the fundraiser as an opportunity to promote solidarity and acknowledge the peace efforts of Russians as well. "I also thought as a geography teacher that we could include a message about thanking the Russians that support the Ukrainian citizens during this tumultuous time," Spizzirri said. "I spoke with a Russian student and asked him to review the [campaign] to make sure it was fair and balanced and not at all divisive since we want all our students to feel safe and welcome."
During Conant's latest video announcement, Yordana Petsryshyn, '24, a Ukrainian student helping to lead the campaign, voiced the necessity for the Conant community to support the Ukrainian people and their allies during the crisis. 
"People of Ukraine need our help. Please be understanding and sympathetic not only to the Ukrainian people, but also our Russian supporters and neighboring European countries that have helped support the refugees," Petsryshyn said. 
Spizzirri hopes that the fundraiser will offer support to the Ukrainian community at Conant and encourage positive discussions about difficult world events. "We want our students to know we 'see' them and acknowledge their struggles outside of the schoolhouse," Spizzirri said. "From a teaching perspective, we want to model how to support the Ukrainian students and families without ostracizing or blaming others.  We want to model positive discourse regarding world events and allow them to discuss difficult issues in a safe space."