Feminine hygiene product drive provides chance to win free I-Fair tickets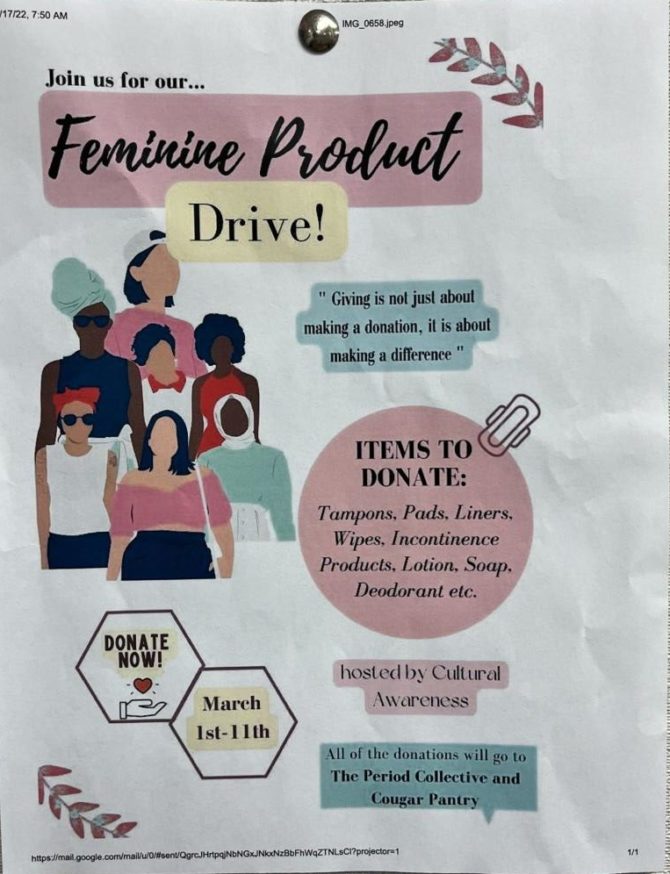 Three Conant seniors are running a "Feminine Hygiene Products Drive" with one goal in mind: helping everyone gain access to much needed hygiene products. Those who donate will be entered into a drawing to win free I-Fair tickets. 
Women across our community struggle with limited accessibility to pads, tampons, and other feminine hygiene products. In Illinois, 1 in 4 teens have missed class due to lack of access to period supplies. Cultural Awareness Club hopes to make a difference by donating the products gained to our community. The Crier sat down with Anjali Patel, Mahi Patel, and Susan Arkin to learn more about the drive.
What inspired you to create the Feminine Hygiene Drive?
Anjali Patel: Originally, it started out with choosing a topic for our class, and we thought gender equality was a great topic to choose. Based on that, we first thought that, 'females have the downside in society', [they don't have] as many advantages as males.We thought, 'how could we help them?' We thought of doing a feminine product drive. Number one, the products are so expensive, they're really hard to get, so we're like, why not make it easier for people who need [them]? For example, our own Cougar Pantry, where students don't even have enough money to buy those products. I thought that was a good idea.
Take me through your planning process. How did this get started?
Anjali Patel: First we asked some teachers, like Mr. Moravek, and we were like 'Oh we were thinking of doing this' and we were looking at what organizations will take our donations in bulk order, and that was very hard to find. Wings especially–they weren't taking donations because of Covid. It was so hard to find a place that was close to us. So we found one in Chicago, and we're donating half of our stuff there, and half of our stuff here, to Cougar Pantry. After that, Mr. Moravek asked us to meet with Ms. Spizzirri, who is in charge of Cultural Awareness. Students two years ago did the product drive, and she turned out to be our sponsor. Based on that, we thought it would be great to do with I-Fair, and if you donate, you get [a chance to win] tickets to I-Fair.
What was your favorite part of the planning process?
Anjali Patel: There was a lot of stress, not going to lie… But we figured it out, and I would say the fun part is coming up this week, when we actually see the products and see that our efforts have paid off.
Where can students donate, when can they donate, and when is this available?
Anjali Patel: From March 1-11. There are going to be pink boxes in every second period class where students can donate. If parents want to donate, there are boxes available in the main office where they can drop off and donate as well. That would be greatly appreciated.
How is this benefiting the Conant community?
Anjali Patel: It helps them get supplies they don't have and need, especially for females. 
Mahi Patel: In the bathrooms, where they have pads and tampons, they don't have that much of a supply left so we're donating some of our products straight to the Cougar Pantry so they can supply it to the school, and for the community, we're donating to Pierre's collection so women get access to all of these products and everything.
Anjali Patel: It's also not just women, donating lotions and soaps can also be used for men as well. We're helping everyone. I know the main focus is on feminine products, but it's also a hygiene drive.
Is there anyone else you want to mention?
Anjali Patel: Assistant Principal Mrs. Ardell; social studies teachers Mrs. Spizzirri and Mr. Moravek, who guided us through the entire process; Jaanvi Patel, who's the president of Cultural Awareness.
Mahi Patel: Head of building maintenance and grounds, Mr. Woods.
Any final thoughts?
Anjali Patel, Mahi Patel, and Susan Arkin: Donate! 
Everyone is encouraged to donate before March 11 in pink boxes located all throughout every second period class. All donors have a chance to win free tickets to I-Fair. Students must write their ID number, name, and school email on their package for the chance to win the tickets (winners will be selected randomly). The more you donate, the higher chance you have to win free tickets! If parents would like to donate, they are able to do so in the main office.
For more information, please see the presentation below: