New D211 Wellness program combines P.E. and health for freshmen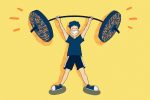 Futo Wada | Conant Crier
District 211 implemented Wellness, a class combining P.E. and health, at the beginning of this school year. The class, currently required for freshmen, consists of three fitnessed-based days in the gym and two days of health in the classroom.
In April, Illinois law changed to allow for P.E. to be reduced from five days a week to three. Conant's transition was independent of this mandate, according to P.E. Department Chair David Cromer. "We were already in the process of instituting a curricular change at the sophomore level which was more fitness-based last year," Cromer said.
The new curriculum covers both the physical and mental/emotional health of teenagers. In the gym, students participate in various workouts that help them learn what exercises they can do on their own. In health, students learn about how to maintain a healthy lifestyle not only physically, but socially and emotionally as well.
Reactions to the Change
Teachers and students alike have complimented the changes. Health Education Department Chair Lorel Cunningham said, "I think it will provide the necessary knowledge to the physical side of P.E. that was missing. There is so much information that overlaps between the two areas that it seemed more beneficial to students if we could combine them."
Freshmen currently in the program have praised what they are learning. The curriculum covers information relevant to the life of a teenager, including mental health and stress and how to approach it, as well as the physical side of personal wellness, such as how to have a balanced diet and different ways to exercise. Sydney Minch, '22, said, "These skills can help us in the future, since life will only get more stressful."
Not only are the students happy with the education in the classroom, they also see the benefit of the work they do in the gym. Aliza Moffet, '22, said, "We do different workouts and activities and I am more aware of why we are doing those certain things based on how they improve my health and strengthen certain parts of my body."
Wellness and GPA
With the transition to a combination of P.E. and health, Wellness now counts toward students' GPA. Students who have previously taken P.E. and health separately have mixed opinions on whether or not this should be the case. They are concerned about students who receive lower grades despite working hard in P.E. Jessica Meister, '19, said, "I don't think gym should really be a part of a student's GPA. Sure, it might help some students, but it will hurt those who do try in gym but aren't very athletic and receive bad grades."
On the other hand, Karishma Patel, '19, said, "I think it is a good idea to have gym as part of students' GPA as long as the rules and grading scale of the class are measured based on personal growth… rather than reaching a certain level."
The district is aware that this change might take some getting used to, and administrators have said they are working with teachers to ensure effective implementation. District 211 Superintendent Dr. Daniel Cates said, "We recognize that this new approach is a recognizable shift, and so we are in close communication with our Wellness teachers to review how we can ensure that the course meets the standards for including the grade in a student's GPA."
Impact on Teachers
Another point of discussion resulting from the shift to Wellness has been that some teachers assigned to teach health have never taught the subject before. According to Cates, teachers will receive the help they need to teach the course. Cates said, "To provide support to teachers with health and wellness topics, teachers developed curriculum for the course throughout the summer, and teachers familiar with the health courses have been very supportive to the teachers in the Wellness course."  
Even though some teachers are teaching health for the first time, Cromer said this isn't much different from any other department, where it isn't unusual for teachers to take on a new subject related to what they already know.
New Equipment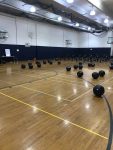 David Cromer
To adapt to the updated Wellness curriculum, the district purchased over $100,000 of new equipment, some of which has not yet found a permanent home. Athletic Director John Kane said, "One thing that we're working on is figuring out space for it and how it's going to be stored, how it's going to be mobile enough to be used in multiple classrooms or multiple sites."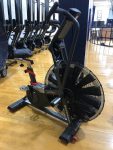 David Cromer
As of now, the equipment has been moved to the south wall of the north gym, but it is not the final resting place. If any changes need to be made in the future, the equipment can be moved.
With this new program in place, Cromer said, "We can bring more students, teachers, staff into taking care of themselves or understanding how to and then applying it someplace else. That's the key thing here. Nobody leaves here with a degree in anything, but you leave with skills to pursue that in college or work or the military, and that's all we want to do."