RISE speaker night to feature empowering journeys of notable women
Conant RISE (Reaching Individuals by Supporting Every Girl) will be hosting a virtual speaker night on March 5, featuring notable women to speak on the theme "Growth in the Face of Adversity."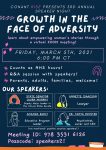 The third annual speaker night will be held over Zoom (meeting ID: 978 3531 6126; password: speakers2!) on March 5 at 6:00 pm, and will highlight empowering journeys of perseverance and success.
"This year, we've really been trying to incorporate intersectional feminism in our discussions during our RISE general meetings," RISE board member Neela Gilbert, '22, said.
Intersectional feminism stands for the rights and empowerment of all women, taking into account the differences and different identities among women.
"'Growth in the Face of Adversity' is a theme that recognizes each woman's individual life journey and the struggles they've faced based on their identity. Sharing how they've grown helps to set an example for young girls who are facing the same adversities or will face them in the future, and encourage them that there is a brighter light at the end of the tunnel," Gilbert said.
RISE's annual speaker event was created as a way to amplify voices of powerful women and to use those voices to empower members of the community, said RISE co-founder and board member Arina Shah, '21. "We wanted to do something that not only brought education to our peers but also allowed women specifically to see a strong cohort of other women sharing their experiences."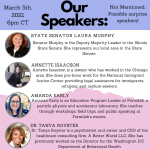 Speakers will include Laura Murphy, Deputy Majority Leader in the Illinois State Senate, Annette Isaacson, Chicago-area lawyer for the National Immigrant Justice Center, Amanda Early, an Education Program Leader at particle physics laboratory Fermilab, and Dr. Tanya Royster, psychiatrist and CEO of her health consulting firm A Better World LCC, and previous director of the Washington D.C Department of Behavioral Health.
"We wanted women who came from different backgrounds, and because the event was on Zoom this year, we weren't limited by location. Our speakers give us a broader perspective on the struggles of women and the growth born from such struggles," Gilbert said.
The event is open to the public, and all are welcome to attend the virtual event. Attendance can also count as NHS hours.
RISE hopes that the event will set strong examples of the capabilities of women from underrepresented backgrounds. Shah said, "I hope people find inspiration from these women and learn that we are not bound to any sort of role or occupation within this society."