Stan's Donuts & Coffee opens location in Woodfield Mall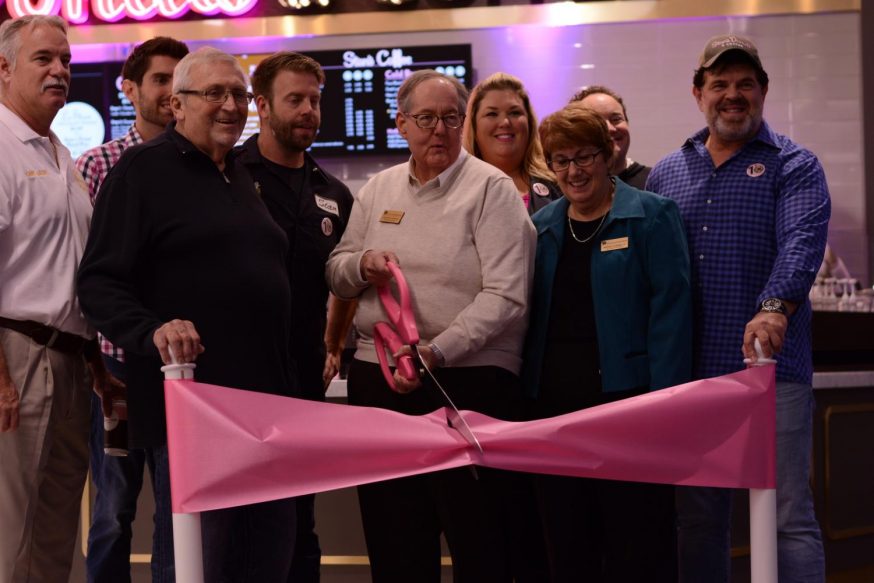 Jacob Iwaniuk
Armed with a pair of giant pink scissors, Schaumburg Senior Trustee and Mayor Pro Tem George Dunham cut the pink ribbon for the grand opening of Stan's Donuts & Coffee at Woodfield Mall's Dining Pavilion on Saturday, Sept. 29. They were joined by Stan's owner Rich Labriola, Village Manager Brian Townsend, and hundreds of people waiting in line, hopeful for the promise of free donuts.
The first one hundred people in line got free donuts, and one random person would receive the Golden Donut, which meant free donuts for life. The first person in line, Becca Joy Root, drove all the way from Minneapolis.
"I'm obsessed with their cold brew, and it's just super good," Root said. "We got the email and thought it was worth coming out."
A couple of Conant students were also waiting in line. Hannah Lexington, '21, and Aahana Shedge, '21, had waited in line since 6 a.m. "We saw an ad on Instagram and said, 'Hey this is pretty cool, you know, they're giving free donuts.' I thought this was the best way to spend my Saturday," Lexington said.
Conant Cougars who weren't at the opening are excited as well. Rithi Bramathan, '19, said, "We don't have many [dessert] options, so bringing Stan's Donuts into Woodfield, a central area for the Schaumburg population, would be great."
Labriola, Stan's owner, said, "It's great that people who drive down to the city or drive to Oakbrook can come here. A lot of people have come to know the Stan's name in the last five years, so I guess the excitement speaks for itself, and I think people are excited it's close to home."