Make the most of a Spring Break staycation
Spring break is here just in time to get students through the stretch of second semester. The weather is finally getting nicer, and there's more daylight. Even if you aren't going out of town for break, you can still make the most of a staycation. Here are some local places you can go to make the most of your spring break!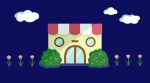 Futo Wada
Chicago Botanical Garden
What better way to get into the swing of spring than taking time to appreciate nature's beauty? At the Chicago Botanical Garden, you can walk through landscapes of millions of different plants and flowers. The displays are colorful, unique, and intricately designed. At a flat fee of $25 dollars for parking, it is a nice opportunity to get some fresh air and enjoy the beautiful weather. 
Local Cafes
If you're looking for a laidback place to hangout, try visiting a cafe. Outside of popular chains like Starbucks, various coffee shops such as Coffee Haus and Handsome Cafe provide the perfect blend of quality service and an aesthetic environment. It's a great chance to try new treats, like bubble tea or bingsoo, and to catch up with some friends.
Color Me Mine
Feeling artsy? Visit Color Me Mine at Streets of Woodfield to paint and personalize your own pottery. There is a $10 studio fee, and additional costs vary based on the piece of pottery you choose. This is a fun activity if you're looking to get creative or try something new. With Mother's Day and Father's day around the corner, you can make a meaningful gift for your parents.
Escape Room
If you and a group of friends are looking for a challenge, then the Mastermind Escape Room is the perfect activity for you. You are placed in a themed room, such as a bank heist or superhero training, with a specific mission. You must work together to find hidden clues throughout the room that will help you escape. And it must all be done in an hour. While it is a bit pricey at $28 per person, this is the perfect fix for a gloomy evening over spring break.
Downtown Chicago
You can make a whole day out of a trip to the city. Visiting museums, going to the lakeshore, trying new restaurants—the options are endless. With places like Millennium Park, there are a lot of spots to go for a fun spring photoshoot. This could also be a great opportunity to explore the city and appreciate its culture. If you're more interested in learning something new, check out the Museum of Science and Industry or the Art Institute of Chicago. There are a lot of fun, interactive exhibits that will keep you engaged during your visit. You can also stop by the Water Tower to get some shopping done if you're looking to update your closet for the new season. If you want to go to the city, plan your day ahead of time so you can figure out transportation and avoid wasting time trying to figure out where you want to go.