Organization tips: how to improve your lifestyle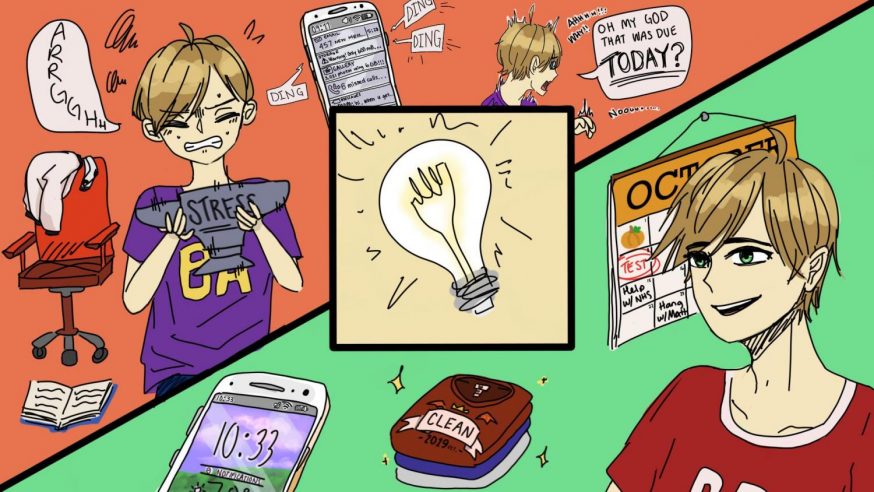 Margaret Zhang
With the heavy workload from school, extracurriculars, and hobbies, it can take a great amount of effort to find time to reflect on our lives and prepare for the future. When our minds are scattered in different places all at the same time, we label it as stress. But there are easy ways to reduce these overwhelming feelings and lower day to day stressors; it all really comes down to simply organizing your life. Here's how to stop yourself from falling into the slippery slope of tension.
Declutter your room
Whether you realize it or not, the environment you place yourself in plays a critical role in your mood and productivity. An easy chore to consistently do is keep your room clean so that you feel ready to accomplish tasks.
When your room is messy, it almost seems like a visual representation of your mental state. Knowing where your belongings are and using them only when needed will make you feel systematic. Feeling frustrated after not finding an item you need urgently will block your mind from thinking clearly. Go through your items and don't hesitate to throw away junk. If you have collections of something, such as crystals or jewelry, find a way to display it in an organized manner (otherwise, store it in a closet or cabinet). A clear room will summon a fresh train of thought.
Control your devices storage and notifications 
In a common list of things to clean, technology is not a word that usually shows up. However, with the stock of photos, documents, and notes in our devices, they too could use a thorough cleanse.  Delete any files, emails, and photos that you no longer need to free up some storage space. Take advantage of creating folders to sort your emails, notes, and apps. Update your apps frequently, and keep track of your notifications. Sometimes, the number of notifications we receive can be overwhelming, so find time to look through them and clear or respond to them. When you can easily navigate through your gadgets, you'll be able to use them productively.
Utilize a planner 
Whether it be digital or paper, a planner is a useful resource to schedule your life and to-do lists. It will assist you in visualizing the many events of your life to avoid procrastination. There are multiple types of planners with various different features. Personalize it in a way that will aid you the most. For example, if color coding your goals helps you prioritize, use that as a strategy. Another helpful tip is to set aside a specific time to document in it to create consistency. Consider starting a bullet journal, as Crier wrote about last year, as a way to both stay organized and de-stress.
Set weekly goals
It is easy to feel overwhelmed with goals and action plans, and at times, it seems like we do more planning than doing. Make your vision of your perfect life a reality by gradually implementing helpful habits into your life. Every week, set a goal so that you have something to strive for, even if it will not take much effort to achieve. For instance, creating a schedule every day will benefit you, however, you are not required to drastically change your lifestyle.
[print-me]