Mother's Day: Simple ways to show appreciation for your mom
With the fast paced, chaotic nature of the end of the school year, it's hard to believe that Mother's Day is this weekend. While there is not much time left, it is still important to show appreciation for your mother. There is no need to panic; here are some last-minute things you can put together to show your mother how much you care.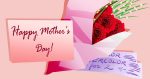 Margaret Zhang
Help her restart a hobby
Your mom probably has some hobby that she is or was passionate about, even if you don't know it. It can get hard to keep up with that hobby when she has so many other things to do and take care of (read: you). Show your mom that you care about her interests by signing her up to take a class for something she enjoys such as painting, sewing, or pottery. She can explore her passion, and maybe you can join her in the fun!
Do some yoga
Like the previous activity, this is something that you and your mother can enjoy together. Yoga is incredibly relaxing and very good for the body. Because you might cause some stress in your mother's life, in this activity you can help her de-stress her for a change. It is a great way to get in shape and find peace of mind.  You could sign the two of you up for a yoga class or just find a simple video on the internet and practice yoga from the comfort of your home. Either way, your mother will be more than happy.
Clean something…anything
Although this task puts more work on yourself, you mother will really appreciate the fact that you helped around the house without her having to tell you. This task does not have to be as extravagant as cleaning your entire home, but it could be as simple as tidying up your room or the bathroom. Even if she doesn't say anything, she will notice, and it could easily better her mood for the day.
Mother's Day 5k walk/run
Although this activity is a little less last minute, it can be a very good activity for your entire family to spend some time together. A local 5K takes place in Barrington, and the donations go to the WINGS Program, which is a charity that helps adults and children gain independence from domestic violence and abuse. The 5K is on Mother's Day, and to top it all off, every finisher gets a rose and a cake pop.
Let her sleep in
All this requires from you is to wake up by yourself a little earlier than normal and get ready for the day without interrupting her rest. If you have siblings, you can try to help them get ready as well so they don't bother her. Her Mother's Day might be made if she just get a little more rest in the morning, even if it's just an extra hour.