Conant student-run businesses making an impact
During these unprecedented times, typically busy students have found themselves with countless hours of boredom. Crier is featuring six students who have taken their hobbies and turned them into businesses over quarantine, bringing a little happiness to the community during a time when everything is so uncertain.
Lola's Sweet Treats
Raelene Roque, '21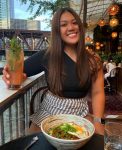 Photo courtesy of Raelene Roque

Inspired by her grandma, the person who taught her how to bake when she was young, Raelene Roque has made a name for herself within the Conant community  with her personalized baked goods. She makes cakes, cupcakes, cookies and more,  all made special to each customer's preferences.

With the stress of the pandemic on top of homework and sports, Roque loves using her free time to bake. "It's like therapy, but I get paid for it," she said.

Roque takes pride in creating original recipes. She was able to use her time during quarantine to perfect her recipes and practice her techniques.

"I really like seeing when people like my cakes. When you bring joy to people's faces with food, I feel like that's the most heartwarming thing," she said.
Besides bringing joy to her customers, Roque has also raised money for different causes that are important to her. Over the summer, she donated all her profits to three different charities: CDC Foundation, NAACP Legal Defense, and UNICEF. She gave her customers the choice to choose which cause the money would go to. She feels that it is important to give her customers the option to choose a cause that is important to them.
Through this experience, Roque discovered that her passion for baking and business is something she wants to continue into her life post-high school.
Instagram: Raeleneroque
Website: raeleneroque.weebly.com


Star Dyed
Ananya Gupta, '22

Over quarantine, Ananya Gupta found a way to turn a recreation into a business.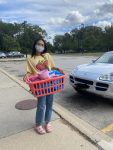 Photo courtesy of Ananya Gupta
"I picked up the hobby of tie-dying things, and then I thought maybe other people would like it, so I started selling them," she said.

Gupta designs all of her products, from Harry-Styles-inspired "Treat people with kindness" shirts to hand made tie-dye tank tops. She finds that creating her own designs helps her find her own style and body confidence.

Gupta makes every package unique by adding personalized touches such as stickers and treats to every order. She also makes it a priority to interact with her customers through her fast-growing social media accounts with giveaways and opinion polls.

Gupta hopes to make a positive global impact through Star Dyed. She often has fundraisers for causes such as the Lebanon crisis, and the human rights of Uighur Muslims in China. She recently donated 100% of profits made from one of her designs to the crisis in Lebanon and was able to raise $500.

Gupta plans to continue supporting causes that are important to her and hopes that as Star Dyed grows, its impact on the world and community will, too.

Tik Tok: stardyed
Instagram: stardyed
Website: Stardyed.myshopify.com


Sewed Up
Molly Tobin, '22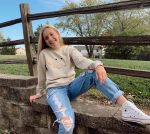 Photo courtesy of Molly Tobin
Molly Tobin is a junior using her business to help a cause close to her heart. Tobin lives with Hypoplastic Left Heart Syndrome, a congenital heart defect that affects normal blood flow through the heart. She knows what it is like to push personal boundaries, so starting Sewed Up was exciting for her.

Tobin wants to help raise awareness of heart conditions like hers and give hope to other families and individuals going through a similar journey.

Sewed Up sells shirts and crewnecks with uplifting messages of hope and perseverance. Tobin donates 20% of every purchase to Mended Little Hearts, a non-profit organization that advances heart research and provides hope and normalcy to heart patients.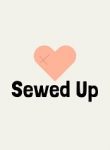 Photo courtesy of Molly Tobin

Tobin puts a lot of hard work into Sewed Up and finds this a rewarding experience.

"Knowing that I made someone else's day really makes it all worth it," Tobin said.

In the future, Tobin hopes to continue to expand Sewed Up to support other causes such as female empowerment.

Instagram: sewed__up
Tik tok: sewed_up
Facebook: sewedup
Website: sewedupbymolly.com


Paint by Mia
Mia Grimaldi, '21

Mia Grimaldi has always loved to paint. It started as a form of therapy after a loss in her family. When friends encouraged her to sell her artwork, she started Paint by Mia.

Paint by Mia is unique because Grimaldi paints whatever customers request. She likes that she is able to make something people love that is tangible for them to hold. She loves bringing happiness to people's day through her art.

Grimaldi's favorite part of having her own business is talking to her customers and learning about them.

"I've met so many new people. People from out of the state have ordered from me, and that's always interesting because I get to learn a little bit about them."

Whether it is through COVID cleaning precautions or timelines, Grimaldi believes that fostering trust between her and her customers is very important. Every order goes through her directly, giving her customers the chance to get updates from her personally. Grimaldi stresses the importance of her connections with her customers and making each order special.

She hopes that as Paint by Mia grows, so can her connections to her customers and the community.

Instagram: paint.by.mia
(DM for orders)


Serenity By Anna: Beaded Crafts by Anna, A Girl With Autism
Maria Feng, '21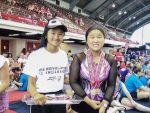 Photo courtesy of Maria Feng

Maria Feng started Serenity By Anna for her sister Anna, who has autism. The stay-at-home order was difficult for Anna who was not able to go to work, sports, and other daily activities.

Anna occupied herself by focusing on her passion for making beaded crafts, something she has always liked to do. When starting Serenity By Anna, Maria thought that it would not only encourage Anna to keep making these crafts that she loves, but it would also support meaningful organizations that spread awareness of the incredible things that people with Autism can do.

Maria is passionate about changing the way people view autism. "People tend to focus on the negative behavioral issues pertaining to having a mental disability, but they overlook the potential they all possess to achieve excellence," said Maria. She hopes to change people's perceptions of autism and show that people with autism can achieve great things.

Maria loves being able to give her sister a platform to express her creativity. Anna makes all the products they sell, including beaded keychains, bracelets, necklaces, earrings, and handcrafted decorations. She and Anna have gotten closer through the experience of doing something that they are passionate about together and hope to continue to promote organizations that promote their message.

Instagram: serenity.by.anna
Website: serenitybyanna.weebly.com


Shivani Styles
Shivani Vyas, '21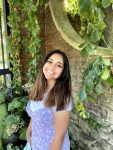 Photo courtesy of Shivani Vyas

Shivani Vyas started Shivani Styles to sell custom clothing, shoes, and canvases as well as thrifted clothes. Over quarantine, she decided to buy a sewing machine and learn to sew. She started off sewing masks to donate during the shortage and slowly learned how to sew bigger projects so she could pursue her passion for fashion.

Vyas gives a portion of the profits from everything she sells to an organization she believes in. Already, she has donated to the Yemen crisis and the BLM legal defense fund.

"I have a very business-oriented mindset. I wanted to help the community in some way while doing something I enjoy," Vyas said.

Additionally, she researched the benefits of thrifting on the environment and used her platform to promote this sustainable way of shopping.

She plans to major in business in college and is excited by her opportunity to save money for college through Shivani Styles.

Instagram: shivanistyles
Twitter: _shivanistyles_
TikTok: _shivanistyles_


Support these businesses and the positive impact they're making by following them on social media and staying up to date on all their new products.