Texas… what are you doing?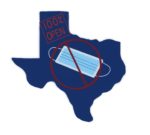 Abigail Denna
On March 2, Texas Governor Greg Abbott announced he was lifting the mask mandate and reopening all businesses in the state to full capacity starting March 10th. Sixteen other states don't have statewide mask mandates either, and while some of these states have just put this in place, others have had it for multiple months or never had strict laws to begin with. 
In the past week, Florida has come under fire due to the large number of people vacationing there for spring break without the requirement of a mask. However, many businesses within all of the states can still require masks in their establishments. The mask laws should be regulated by the federal government, not the individual states. It should not be a businesses job to make it known that a mask is required, it should be the expectation via the government.
The reasoning for these decisions is that vaccines are being rolled out, recoveries have been high, and case numbers have been low. Upon further research one can see that roughly 4,000 cases are reported every day in Texas. That's just Texas. Florida is reporting around 3,300 cases a day and a 5,000 7-day average. 
Before the mask mandates were removed, the daily case number in Texas was roughly 1,000 cases. The daily case number for Texas has gone up by 3,000 cases in the past three weeks. Removing masks and opening everything up without the requirement of masks will undoubtedly cause an increase in cases. 
Governor Abbott could have opened businesses to a smaller capacity, that way they would still be getting business without endangering citizens. The masks should've stayed in place until more vaccines have been given to Texas citizens. According to Our World Data, less than 9% of Texas's population has been vaccinated. Governor Abbott feels safe to reopen because of the amount of Texans who have been fully vaccinated, but, to me it still feels premature. 
Emily Wilger '21 said, "In my opinion, I think that Texas taking the mask mandate away was very irresponsible because now that people aren't wearing masks the number of deaths will go back up and it will truly show how important masks are. It's not fair to the rest of the country because we're all supposed to be in this together. And if the rest of us have to wear masks so should they."
Opening up states fully with no masks is simply impatience at this point. Vaccines are being more accessible and waiting a few more months to open businesses seems like a much better idea then doing so right now. We have to give it some time to get more people vaccinated and slowly keep opening businesses up to slightly larger capacities.