A new season brings new entertainment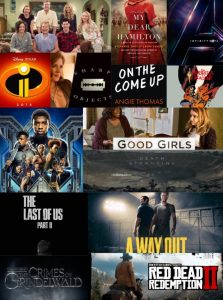 Graphic by Joanne Velasquez; original images obtained through fair use.
As school is always stressful, you may want to help yourself to a distraction. If your favorite show is ending and you have nothing else to binge watch, don't fret–there are plenty of new releases for you to succumb to the pleasures of entertainment.
Here are some upcoming 2018 releases, with brief summaries. Some information has come from the hyperlinks within the descriptions. Click on these hyperlinks for further information.
Movies:
Books:
"My Dear Hamilton" by Stephanie Dray and Laura Kamoie

Despite being a main character in the musical "Hamilton," Eliza Schuyler Hamilton was a secretive individual, especially about her life after Hamilton's infamous affair. However, "Hamilton" fans are in luck. In a book that is expected to

release on Apr. 3

, fans can finally hear about the unspoken narrative of Eliza Schuyler Hamilton, the woman who loved a tireless man.

"On the Come Up" by Angie Thomas

With another story about the struggles of life, Angie Thomas has written a new stand-alone book to follow "The Hate U Give," a bestselling story that gave Thomas a base of loyal readers. "On The Come Up," which is

expected to be released on May 1

, is set to show readers how getting all they want may not always lead to contentment.
TV Shows:
Games: