Conant Theatre to perform spring comedy "The Importance of Being Earnest"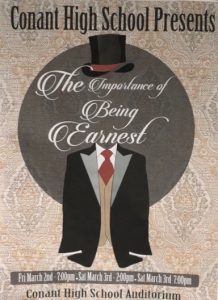 Poster by Mica Gil
Conant Theatre presents one of Oscar Wilde's greatest works, "The Importance of Being Earnest," a comedy filled with mistaken identities and misinterpreted love. The show will be performed in the auditorium on March 2 and 3.
Set in Old Victorian England, "The Importance of Being Earnest" follows a tangle of love for friends Algernon Moncrieff, played by Rob Stanislawski '20, and Jack Worthing, played by Zack Gold '18. Jack leads a double life going by the name of "Earnest" in the country. There, he pursues an infatuation with Gwendolen Fairfax (Amy Rodriguez, '18), daughter of Lady Bracknell (Anisha Narain, '18), a strong proponent of Victorian ideals.
Algernon accompanies Jack to his country estate, where he falls in love with Cecily Cardew (Brooke Peterson, '18) and assumes the identity of "Earnest." The men are unaware of this shared pseudonym, so both girls think they are dating Earnest, and hilarity ensues. Things may get resolved, things may not. "You'll have to come to the play to find out," said Director and English teacher Katherine Apperson.
Having only six weeks to prepare the show, the cast, crew members, and directors collaborated to accomplish everything quickly before opening night.
Student Directors Nate Massa, '18, and Mark Frale, '20, "have really taken charge and led rehearsals that I cannot attend," Apperson said. "In terms of blocking and character work, they are able to run that with [the cast]."
Stephanie Svarz, fellow English teacher and "Our Town" director, has helped out with dramaturgy. The job of the dramaturg crew is to study the language and context behind the play and to relay the world of Old Victorian England to the cast and audience by adding features and props to the stage.
Shayna Adelman, applied technology and science teacher, is the technical director, and Joseph Tullo, applied technology teacher, is the scenic director. Together, they have been working to enhance the visual experience for audience members and actors alike.
Under Tullo's direction, the crew has put together many structures during this short window of time. "The Importance of Being Earnest" has multiple quick scene changes to portray each twisted relationship within one act. Narain said, "We have the world's largest fidget spinner to portray our three different sets, so there is a lot going on."
As for cast members, the short schedule has not hindered their ability to learn lines and stage directions. Gold said he has spent time outside of school to memorize his lines, "which can be pretty stressful, but I make specific deadlines for when I want each act to be memorized."
To make this performance his own, Stanislawski described his intent to enhance his character through emotion and facial expressions to add to the overall character development. The actors have also picked up an Old Victorian accent to really strengthen their character representation.
As seniors, this is the last opportunity for Gold, Rodriguez, Narain, and Peterson to perform on the Conant stage. "I will miss the people, probably, more than anything," Rodriguez said. "I think that being a part of a school production is really cool because I knew all of [the cast] before I went onstage with them, and then I just got to know everyone even better throughout [rehearsals]. Those relationships never really get messed up afterwards."
"The Importance of Being Earnest" has allowed the actors to assume roles with personalities different from most plays they've done in the past. This has allowed these individuals to present their humorous side.
Peterson's favorite scene is with Rodriguez. It is an exchange later in the play between their characters, Cecily and Gwendolen, that eventually turns into an argument. Peterson said that the scene starts as a friendly conversation, but there is a point where the remarks become passive-aggressive.
"We are all of a sudden underhanded and mean. I think it's really funny because our characters are so proper that we will never be outright mean, we are just super, lowkey vicious," Rodriguez said.
"The Importance of Being Earnest" is relatable to all, and the message behind the laughs gives insight for all to take. "The characters do some outrageous things, where they are able to laugh at themselves, at the situation, and make the best of it," Apperson said. "The idea of finding the moments to laugh and finding the moments to kind of seize what's happening around you rather than worry all the time. Life is way too short for you to just stay in your worry bubble. Pop it and go do great things. Even if they don't turn out well, you still did them."
The show will be on March 2 (7 p.m.) and 3 (2 p.m. and 7 p.m.) in the Conant auditorium. Tickets will be sold for $5 for students and $7 for adults during lunch periods. They will also be sold at the door prior to each performance.