12 timeless tales to read this winter break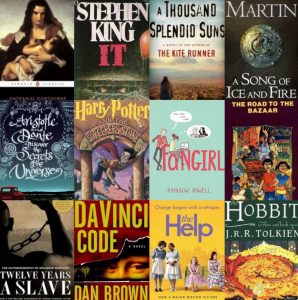 Last week, when I had an SAT and six intimidating finals to prepare for, there was one thing that kept me going: the thought of cozying up with some of my favorite books over winter break.
Now, granted, a lot of people nowadays don't really read for fun, especially when there are so many binge-worthy Netflix TV shows to see, but I believe that's because many people haven't picked up a book in a while and have forgotten how thrilling it feels to have your nose stuck in the pages of a captivating story.
Now that winter break is here, I implore you to cuddle up with some of the pillowy paperbacks suggested below. They're all books of different genres that'll keep you gripped. You won't be disappointed — I promise.
1) "Aristotle and Dante Discover the Secrets of the Universe" by Benjamin Alire Sáenz
This book is the perfect way to kick off your winter break. The sweet and simplistic coming-of-age story revolves around the lives of two teenage boys, Aristotle and Dante, whose meeting at a local swimming pool inspires a beautiful friendship between the two. Although Sáenz's writing style is not very complex, his minimalistic wording is breathtaking and speaks volumes. If you're looking for romance anda sense of nostalgia in a novel, this is the book to pick up.
2) "It" by Stephen King
"It" is a thrilling novel that takes you on a terrifying and mysterious adventure in the small town of Derry, Maine. When seven adults, who were once childhood friends, reunite twenty-seven years after confronting the infamous monster in the sewers of Derry that haunted them as children, their goal is to end the cycle of children being murdered in Derry once and for all. Yet as they prepare to fight thismonster once again, memories of their terrifying summer together in the past return.Even if you're scared of clowns, this one's definitely worth a shot–it'll keep you on your toes throughout!
3) "The Scarlet Letter" by Nathaniel Hawthorne
Many times, when assigned books to read for my English classes, I "Sparknote" them. But when assigned "The Scarlet Letter" this year, I made the effort to actually read the book–and I'm so glad I did. "The Scarlet Letter," possibly one of the greatest pieces of historical fiction ever written, tells the story of Hester Prynne, a young woman known to her entire Puritan community as an adulteress, who is alienated and left to live alone with her daughter Pearl. Through Hester's raising feisty Pearl and tediously regaining her public image, we are exposed to the flaws of mankind and to glimpses of what people are willing to do for vengeance or to cover up their shame.
4) "The Help" by Kathryn Stockett
This story's wonderful writing and binding plot reminds me of "To Kill a Mockingbird" in the best way possible. Aibileen, a black maid in 1962 Jackson, Mississippi, has always been obedient, but recently, a new seed of bitterness has taken root inside her. Her sassy friend Minny, who was conveniently fired from her old employer, has to keep her mouth shut and her new employer's secret. A friend of Aibileen's employer, Skeeter, husband-less and with a mind full of dreams, has a few questions that make her a little different from the other white ladies in town. Miraculously, these three women come together to write a scandalous book about the truth behind working as a black maid in the South. This book is filled with humor, charm, and a few life lessons that you simply can't live without.
5) "The Hobbit" by J.R.R. Tolkien
Modern fantasy novels often take inspiration from this revolutionary piece of fiction. Many high school students may have already read it, but I'm including it on this list because if you haven't read it yet, you must. It follows the tale of a hobbit named Bilbo Baggins who is–rather unwillingly–whisked away on an adventure one day. When disturbed by the famous wizard Gandalf and his company of dwarves, Bilbo has no choice but to succumb to their demands to take him on an adventure. From raiding a treasure hoard to making a journey to the Lonely Mountain, Bilbo and his company encounter magic that they never expected to see. Let's just say that the story isn't called "one of the masterpieces of fantasy" for no reason, and it's sure to make your winter break magical.
6) "The Road to the Bazaar" by Ruskin Bond
This paperback, filled with sweet and satisfying short stories set in northern India, makes me extremely nostalgic of days when I was little and irritably bored. I remember flipping through the stories in this book while cuddled up in bed and dreaming about "The Big Race," "Koki Plays the Game," and many of the other irreplaceable tales in this book. Even when pummeled with homework and exams, this book never fails to bring me back to a much simpler time in my life. It's a timeless book that I imagine I'll still be flipping through at age 80.
7) "Twelve Years a Slave" by Solomon Northup
I'll be honest–I haven't finished this book yet, but I read the first few pages of its Amazon preview, was absolutely hooked, and intend to finish it over break. The memoir inspired a highly rated film of the same name. Its intense plot revolving around the true story of a free black New Yorker sold into slavery in the south after being drugged, tricked, and abused, shows just how dangerous life was for black people in the years before the Civil War, and how life can easily take unexpected turns in the matter of seconds, often without any justification. Despite the pain and disturbance that comes with reading this tearjerker, it still teaches the importance of retaining hope and never giving up.
8) "The Da Vinci Code" by Dan Brown
After watching its admittedly enthralling movie counterpart, I still find the book version to be better. When Harvard symbology professor Robert Langdon discovers that the elderly curator of the Louvre Museum has been savagely murdered inside the Louvre with a perplexing cipher etched beside him, many questions linger. Once Langdon digs deeper into the meaning of the cipher and finds hidden clues related to Leonardo Da Vinci's paintings in the museum he realizes that there's much more to the curator's murder than he initially believed. If you're a history buff and/or a mystery lover, this book is sure to be your cup of tea, as it combines mystery and the Christian faith's roots to create a tale full of suspenseful intrigue.
9) "Fangirl" by Rainbow Rowell
If you're a senior who's just finished the rat-race to turn in college applications and has an obsession with everything "Harry Potter" related, then you'll likely adore this novel. The protagonist, Cath, is a "Simon Snow" fan, along with most of the world. But for Cath, Simon Snow isn't just a series that she enjoys reading–it's her life. "Simon Snow" was what Cath and her twin sister, Wren, grew up with. But as Cath and Wren prepare to move into separate college dorms and Wren begins to slowly wean away from the "Simon Snow" fandom, Cath is left discovering the world on her own for the first time, only to undertake a journey she'd never expected to be on. Lighthearted and fun, this story is a perfect introduction to the college experience with characters that you can't help but get attached to.
10) "Harry Potter" series by J.K. Rowling
Do I even need to explain this one? The "Harry Potter" series is a classic of our age that has touched the hearts of so many readers. So many people have practically grown up with Harry Potter, patiently waiting each year in long lines at Barnes and Nobles for the books. The story of a young boy's adventures with his friends at a wizarding academy is one of my all-time favorites to read when it's cold and snowy outside. Whether I'm reading about the sorting hat ceremony, the Triwizard Tournament, or Harry and his friends hiding from Death Eaters in a coffee shop, this series never fails to entertain me. No summary does this series justice–you just have to read it!
11) "A Thousand Splendid Suns" by Khaled Hosseini
There are very few pieces of literature in the world that are so beautifully written that they take your breath away, melting your heart at the turn of each page. I remember weeping at some moments and beaming with happiness at others while reading this novel. This book follows the stories of two women's lives, Laila and Mariam, in the midst of the Afghan war in the late 1970s. Although they come from different generations, beginnings, and socioeconomic backgrounds, they find themselves in the same place, and they form a special and indestructible bond that proves to be the only tangible thing that they can control. Through romance, suspense, sacrifice, loss, and fate, Hosseini shows what people are willing to do to protect those they love, and what people are willing to hold on to for the sake of hope.
12) "A Song of Ice and Fire" series by George R.R. Martin
Ending this list with a bang is perhaps the greatest fantasy epic of all time–"A Song of Ice and Fire" by George R.R. Martin. With five books written so far, the first being "A Game of Thrones," this series is impeccably written, weaving together the lives of multiple characters in the medieval world of Westeros, where summers can last decades and winters a lifetime. The best thing about this book is that there are many main characters. Whether or not you've watched the HBO version, the book's perfect mix of politics, suspense, mystery, and medieval fantasy makes it a must-read. Plus, Martin's flawless writing somehow manages to immerse you in the fantasy world every time you read it. It's easy to see why the series inspired one of the most popular TV shows of all time.