'Dash and Lily' is a cute Christmas TV series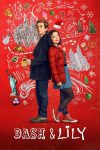 From Netflix under fair use
Christmas is near and it's time to get into the holiday spirit! So, to start off Christmas right, I will be reviewing a Netflix original called "Dash and Lily", a cute 8-episode show following two strangers that slowly fall in love with each other during the days leading up to Christmas. 
Lily (Midori Francis) doesn't want to be alone on Christmas. Yet, everyone is leaving to go on vacation with their special someone and Lily struggles to stay positive. She decides to take some action. So, with the help of her brother, Langston (Troy Iwata), they make a little game to find Lily someone special to spend Christmas with. In a little notebook full of clues, she challenges anyone who happens to pick it off the shelf.
To Dash (Austin Abrams), Christmas is the most detestable time of the year. All he wants is to stay in his dad's apartment and relax, but something unexpected happens: he finds a red notebook full of clues at his local bookstore, The Strand. He soon learns that this Christmas may be interesting and decides to accept the challenge in the notebook. He and 'Clue Girl' exchange the notebook as they travel all over New York City doing dares, sharing each other's thoughts, and facing their struggles head on. 
"Dash and Lily" was very adorable and kept me in high Christmas spirits. The characters were likable. I personally liked Langston, Lily's brother, and Boomer, Dash's friend (Dante Brown), the most as they were very supportive with Dash and Lily's little notebook romance and heavily contributed to the story. They were also very funny characters! 
Dash was a smart aleck which made the show much more comical. I frequently found myself laughing at Dash's snarky comments. Lily was very relatable, especially with her non-existent social life and desire to stay in her bubble. So, it was refreshing to see her go beyond her comfort zone and it was sweet to see Dash help her. 
I absolutely adored their relationship and the way they came to meet. I've never seen a notebook used to bring people together, so this was a pretty new concept to me. The notebook held such significance in their relationship: it was a place for them to get to know each other, spill their feelings, bond over dares, and push themselves out of their comfort zones. As for their relationship, they were supportive of each other and wrote dares in the notebook that would benefit the other in some way. They connected so well!
I'll have to say, the conflict or the "plot twist" presented in the show was pretty cliche. It was predictable and, to be honest, could have been easily resolved. Also, compared to other Christmas movies I've seen, this isn't really that high on the list. The way the two met was really unique but looking at the tv show as a whole, it was all pretty simple. "Dash and Lily" was a very enjoyable watch in the moment, but I wouldn't rewatch it anytime soon. I'm not big on Christmas movies, so there are only a few I really like. This just wasn't my favorite.
"Dash and Lily" was decent overall. It was cute and frustrating at times but that's all part of the experience. It was also quite entertaining. I'd recommend watching this with friends or a significant other over the Christmas break. I rate it a 3.5/5.