HBO's 'Game of Thrones' makes triumphant return in season 8 premiere, 'Winterfell'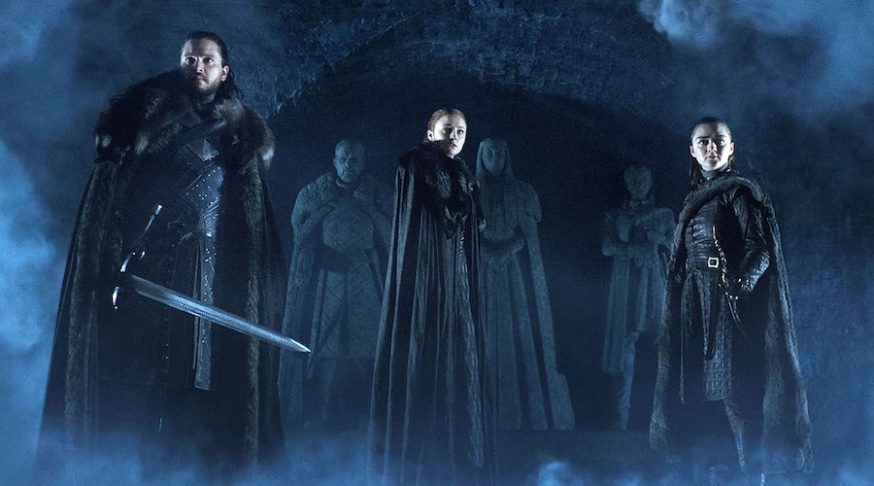 Image obtained from HBO under Fair Use
For years "Game of Thrones" fans have been parroting the phrases, "What is dead may never die" and "Winter is coming." But as we discovered in the show's penultimate season, winter is finally here—and now, thankfully, so is the fantasy series's eighth and final season.
The new season's long-awaited premiere episode, "Winterfell," aired on HBO on Sun., April 14 and played host to a startling 17.4 million fans worldwide, which unsurprisingly put the saga at the top of the list for the most-watched scripted entertainment programs of the year. It also shattered records within the "Thrones" universe by officially becoming the first "Game of Thrones" episode–and the first season premiere–to garner this many views upon its initial release.
The premiere clearly had a lot to live up to. But for many fans, it fell short of expectations because of its seeming lack of plot development, its somewhat cliché dialogue, and its unfortunate surrender to cringeworthy character tropes.
Though I agree that some characters' dialogue may have a been a bit predictable and that the plot consisted mainly of tearful reunions and awkward first meetings, I have to disagree with these disappointed "Game of Thrones" fans. In my opinion, the episode did a good job of setting the stage for the rest of the season, and although it was admittedly more mellow than many of its precursors, it still managed to possess the zest and intrigue that makes "Game of Thrones" so special.
The episode begins with the dragon queen herself, Daenerys Targaryen–along with her Unsullied Army, two fire-breathing dragons, and Dothraki horde–and the stoic "King in the North," Jon Snow, majestically arriving at Winterfell on horseback.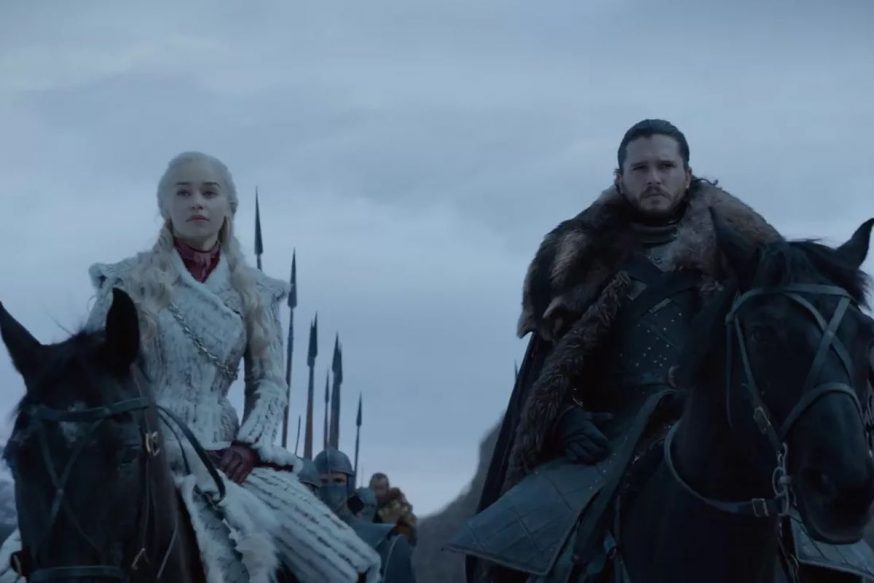 Image obtained from HBO under fair use
Many have argued that the scene parallels the opening scene of "Winter is Coming" in season one, where little Arya stares in complete awe at the procession of Lannister men and women making their way down the beaten path.
The showrunners' decision to mirror the opening scene of "Winter is Coming" was smart because it reminded fans and viewers of how much Westeros–and the North–had changed since season one.
And, of course, we can't forget the fact that in the season eight premiere, there are two great dragons plunging into Winterfell, which is what makes the scene truly a sight for sore eyes; the only one unimpressed by it all is Sansa, the Lady of Winterfell, who, loyal to the North, is smart enough to see past the pretty dragons and sparkling silver shields. So it makes sense that, when Jon first introduces Sansa to Daenerys, Daenerys receives a rather cold greeting.
Because Sansa has learned from–and suffered under–some of the most skilled manipulators in the Seven Kingdoms, she has had to learn to trust carefully–and to not play with fire. Still, for Jon's sake, she mustn't rally the North against Daenerys or her men. She must attempt to trust her while still keeping her at arm's length. This makes fans wonder: How long can this shaky semblance of "peace" last?
Contrasting with Daenerys's tense, awkward meeting with Sansa is Jon's much more heartwarming, emotional exchange with Arya–the reunion we've been hankering for since the two were first separated. Arya makes it clear that despite her love for Jon, she's on Sansa's side; she even calls Sansa "the smartest person I've ever met," confirming that the Stark sisters are together again and stronger than ever.
Other notable reunions include Sansa's reunion with Tyrion; Bran's cryptic reunion with Jaime, who, this time, is at least fully clothed; and Arya's reunion with Gendry.
Image obtained from Time Magazine under fair use
These reunions, along with others, bind the episode together and bring the series full-circle. They also make very clear how much certain characters have changed: Sansa, for example, is able to show off her wit and political savvy when interacting with Tyrion, and Theon is finally able to look Yara in the eye and apologize to her upon saving her from Euron.
Sam, too, wears a cape of bravery when mustering up the courage to tell Jon about his true identity–or does he? Because it doesn't seem difficult at all for Sam to spill the biggest secret in the Seven Kingdoms to Jon immediately upon reuniting with him. There's plenty of reason to believe that Sam is not only eager to tell Jon about his lineage because he believes that Jon deserves to know, but also because he believes that Jon would make a much better ruler than Daenerys, who killed Sam's brother and father for not pledging fealty to her.
There's also symbolic meaning in Sam's decision to tell Jon the defining secret in the crypt–beside Ned's statue. Remember how in season one Ned says that he will tell Jon about his mother the next time he sees him? Well, Ned either knew he would die in King's Landing or unwittingly made the most clever statement any man in the Seven Kingdoms had ever made.
Altogether, the episode is one of dramatic reunions and backhanded quips, the beginning of the end. The episode's subtle similarities to former episodes and its many cliffhangers make it a well-crafted season premiere. It certainly leaves us with many questions. What will become of Jaime? Where will Yara and Theon go? Will Bronn actually kill the Lannister brothers just because Queen Cersei has ordered him to?
Now that winter is here, lords are falling like flies; the Night King has already mutilated Lord Umber. Who will be next? Lady Brienne? Jon Snow? Queen Daenerys? Arya Stark? Podrick Payne? Ser Bronn of the Blackwater? Find out in the second episode of the eighth season, which is currently available on HBO.