"Hubie Halloween" is an amusing Halloween movie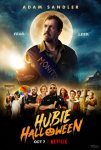 From Netflix under fair use
With trick-or-treating being a risky activity right now, everyone needs some way to still celebrate and have fun. This Halloween, along with a full "blue moon", there's a new Halloween special to indulge in. "Hubie Halloween," a Netflix original, will keep you entertained and in high Halloween spirits.
This movie was dedicated to Cameron Boyce, an amazing dancer and actor who passed away in July 2019 from an epileptic fit. In the credits, the actors paid tribute to Cameron Boyce for being a wonderful and funny person. Set to play Hubie's coworker, Cameron Boyce would have played his part well as he did with his other roles. May he rest in peace. 
"Hubie Halloween" follows Hubie, a devoted volunteer in protecting the town of Salem, as he comes face to face to a legitimate investigation involving a potential murder. 
Hubie Dubois (Adam Sandler) finds himself frequently escaping pranks from everyone in the town of Salem, yet Hubie still tries to protect the town. He stays determined to keep the streets on Halloween as safe as possible. 
"Hubie Halloween" was a pretty basic, but nonetheless, entertaining movie. It has a simple premise, but wasn't unique in the fact that it has a similar plot to other Halloween movies – in essence, some people try to save a town from weird and dangerous occurrences on Halloween. Aside from that, it was enjoyable in the moment.
The comedy was very light-hearted, especially the parts where Hubie was pranked by his fellow colleague, Deli (Karan Brar). Since Hubie is easily scared, Deli decided to scare him while Hubie was on the toilet and his reaction was just hilarious. It was a great laugh and there are many more instances where Hubie was scared that made me chuckle.
Aside from the comedy, 'Hubie Halloween' was still able to portray themes of kindness. Everything Hubie did was with kindness. Even the characters that would bully—Deli, Pete Landolfa (Ray Liotta), Lester Hennessy (Tim Meadows) and the entire town— Hubie learned the importance of being kind through him. 
As for the characters? They were pleasant – especially Hubie. Even though he was simple minded, Hubie was an overall admirable character especially since his main goal was to just help the community and protect his town. 
For instance, Hubie tried to save someone that had run into a haunted house and since Hubie is scared easily, it was a challenge he faced on his own. These specific scenes always provided comical relief as well!
Overall, 'Hubie Halloween' was delightful and was definitely a good Halloween movie. I would rate it a 3.25/5. It's definitely something you could watch with your family, especially during these times when you can't do much.