Moana provides fun glimpse into Polynesian culture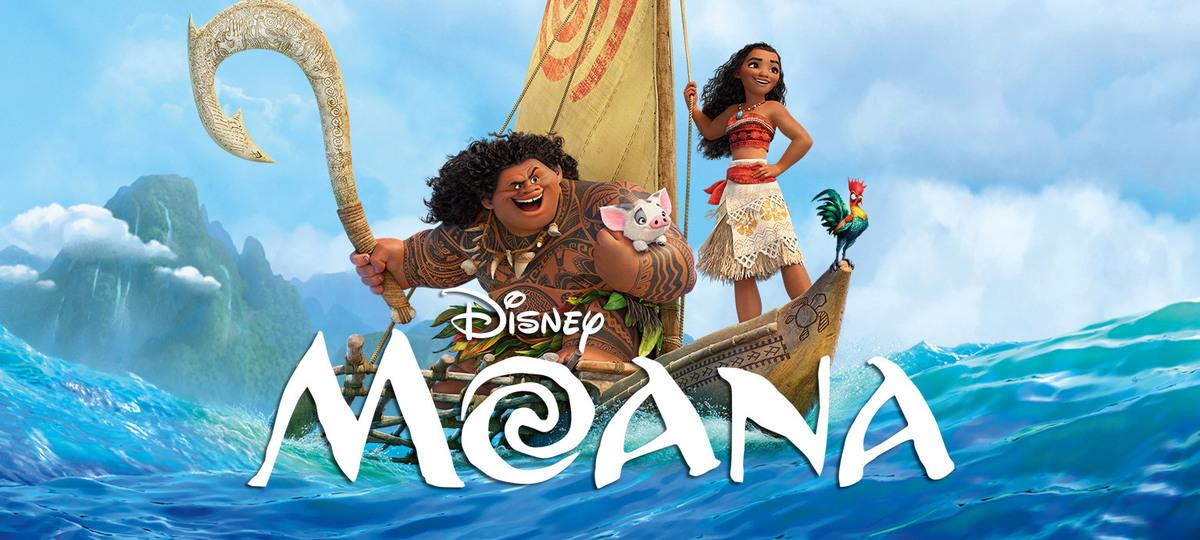 It's boring to stay in one place your whole life. Even if you live somewhere beautiful, it's still natural to yearn to explore beyond your home and make a new life for yourself. This is the preface of Disney's "Moana." The tale is centered around a young woman who must search for the Hawaiian demigod Māui and have him return the heart of the goddess Te Fiti, which he stole one thousand years ago. This caused dark forces to spread over the world, destroying island after island. This animated movie features a surprisingly low number of characters for a Disney movie, yet manages to tell an interesting story through its phenomenal cultural ties and bright visuals.
Moana, the protagonist, wishes her whole life to explore the oceans outside of her home island but is kept on the island by her father, the chief of their tribe. However, when her island begins to experience hardships such as a lack of fish, Moana's grandmother encourages her to set out and find Māui and have him return Te Fiti's heart and restore balance to the world. The tried-and-true formula of a young "chosen one" going out to save the world and learning valuable lessons along the way is exciting to follow. While "Moana" is primarily a movie for children, it's also enjoyable for an older audience–especially if you have a fondness for seeing what different cultures experience–because Moana depicts Polynesian culture in a way that is easy to understand.
The music in "Moana" has a lot to offer for all kinds of viewers. Like many Disney films, "Moana" is a musical, laden with lyrics and melodies. Also like many Disney films, the songs are catchy and fun– you'll listen to the uplifting lyrics until they drives you crazy. "Hamilton" fans will appreciate the fact that Lin Manuel-Miranda wrote the music, and there's even a song that's sung mostly in Tokelauan, a language that stems from a territory in New Zealand.
As previously mentioned, part of Moana's journey is finding and enlisting the aid of the demigod Māui. While Māui isn't the main character, his personality has more depth than most of the other characters. The Māui of Polynesian legends is quite brilliantly replicated within "Moana," from his triumphs to his personality. Māui is known as being a trickster demigod who often causes mischief and exploits the ignorance of others. He can also be hot-headed and impatient; however, he does have good intentions for the most part. The Māui in "Moana" is no different, from the things he says and does–such as his actions towards Moana when they first meet, and his inital reluctance to help Moana–to the legendary fishhook he wields.
Māui's background is also very accurate, with many of his most famous feats being relayed without error. Unfortunately, Māui is really the only character from actual Polynesian folklore, but at least he was well portrayed.
Additionally, the actions and lifestyles of the people in this film are nearly identical to members of ancient Polynesian cultures, except for a few minor missteps. These missteps don't heavily affect the film, unless you are quite nitpicky. "Moana" also boasts radiant and colorful visuals with the exquisite detail of the characters, jungles, and brilliant ocean.
The voice actors nailed their accents, excluding Māui, who was voiced by Dwayne Johnson and had an American accent. The fact that Moana was voiced by Auli'i Cravalho, a native Hawaiian, was a great touch.
Altogether, "Moana" has a bit of a thin plotline, but the splendid visuals and the incredible attention to cultural detail more than make up for it. Most non-3D tickets go for around $12, which isn't a bad price at all for a bright look at some Polynesian culture at Disney-level quality.