"To All The Boys I've Loved Before: Always and Forever" is a cheesy yet sweet ending to the trilogy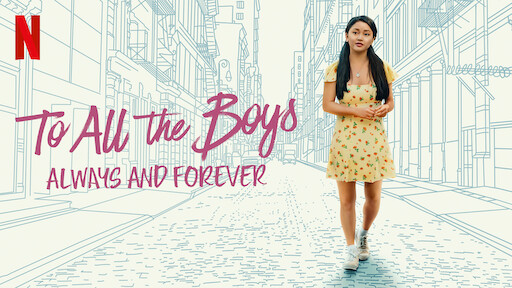 From Netflix under fair use
In her junior year of high school, Lara Jean Covey's iconic love letters were sent to every boy she has loved before. A fake relationship and love triangle drama later, Lara Jean (Lana Condor) and Peter Kavinsky (Noah Centineo) are ready to take on their senior year of high school in "To All the Boys: Always and Forever". An emotional rom-com with a touch of comedy, "To All The Boys: Always and Forever" is a light-hearted end to the endearing trilogy. 
The dynamic of Peter and Lara Jean's relationship changes throughout this movie. Though Lara Jean gets rejected from Stanford, the school Lara Jean and Peter were planning to attend together, she unexpectedly falls in love with New York University. 
Parts of the movie were a bit cheesy, like Peter's promposal and Lara Jean's search for her and Peter's song. However, there were also heartfelt moments, like Lara Jean bonding with her family and Lara Jean finding her mom's love lock. The contrast of these moments rounded out the movie nicely. 
Like the previous two movies in the trilogy, "To All the Boys: Always and Forever" presents some significant plot differences. For example, the movie starts with Lara Jean in Korea over her spring break, looking for her mother and father's love lock (a symbol of an unbreakable bond) on Seoul Tower. On the other hand, in the book, Lara Jean is supposed to go to Korea after she graduates to spend some time with her grandmother.  
Because Lara Jean was supposed to go over summer break, she felt that her already dwindling time with her boyfriend was cut even shorter. This played a role in the tension between Lara Jean and Peter after they learned that they would barely have any time before they go on their separate paths. In the movie, Peter feels like Lara Jean is leaving him, and because he knows that their relationship is deteriorating, he becomes more withdrawn.
Another difference is that Peter makes up with his dad (Henry Thomas) in the movie and he forgives him for abandoning him after his parents' divorce. This addition highlighted Peter's growth as a character, as he was able to be open-minded and forgive his dad for his mistakes. Peter transforms from a cocky jock to a mature, caring man, and showing him repairing his relationship with his father further captures this change in character. The book, however, doesn't focus much on his father's involvement, as their relationship remains estranged after his father misses Peter's graduation ceremony. 
Small additions to the movie also brought more attention to Lara Jean's character and how close she is with her family. Her younger sister, Kitty (Anna Cathcart), didn't tell Lara Jean about her NYU acceptance because she feared seeing her sister move across the country. She later tells Lara Jean that she will miss Lara Jean "a twelve" out of 10, which brought out a more vulnerable side of Kitty and a more loving side of Lara Jean. 
Altogether, this movie was a charming yet bittersweet ending to the "To All the Boys" trilogy. Anyone looking for an entertaining rom-com should definitely give this movie a watch.