5 Reasons You Should Watch 'The Wilds'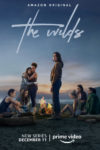 From Prime Video under fair use
"The Wilds" is an Amazon Prime original series, with its first season released on the platform in late 2020. It follows a diverse group of teenage girls who find themselves stranded on a remote island after the private plane they are aboard crashes in the Pacific. Some of the girls are friends, some are strangers, two are sisters, and one dies in the first episode, but they all have complicated pasts and real struggles they face at home. Each episode is told from the perspective of one of the girls, who is sharing their recount of the events on the island to investigators. Through many different perspectives, backstories, and parallel points of view, the events of the island are found to be different than they first appeared as the girls are discovered to be participating in an intricate social experiment. 
I fell in love with this show after watching one episode, so here are my favorite things about "The Wilds" and why I think you should watch it immediately.
Acting
Nearly the entire cast of "The Wilds" consists of young women actors who I'd never heard of before. For some of them, this was their first major role, so it was hard to know what to expect from their performances. Let me tell you, these girls do not disappoint. Each character is brought to life and performed in such a way that it allowed me to become fully immersed in their world. While I believe all the performances were great, the one that stood out to me the most was Mia Healey's portrayal of Shelby.
Mia Healey gives Shelby so much depth as a character, and Shelby's development throughout the show is played so well. The character of Shelby is very complex and multidimensional, which I think Healey was able to do better than anyone else could. Shelby felt real, and I could feel empathy towards her even at times where her actions were questionable. This was something I noticed throughout the show as well and I see it as a true testament to the talent that the young actresses brought to the show.
Multi POV/multiple timelines
"The Wilds" has a multi-point-of-view format with multiple timelines to follow. Each episode contains a different girl's backstory and also shows the chronological events taking place on the island. For example, in episode one, you follow the girls as they find themselves stranded on the island, but you also see the character Leah's backstory and the events in her life that led her to the island. This format is just one of the many ways that this show holds your interest and excitement for the next episode. I found myself excited to learn more about each girl, and I couldn't stop watching. 
Likability of characters/character development
There is just something about every single character that is likable in this show! There were a lot of times where I disagreed with a character or their actions, but all of them were able to redeem themselves. It seemed that every time a character made a questionable decision on the island or in their past, there was a deeper reason for why they were acting in that way. The writing on this show is developed thoroughly enough that each character has a well-developed backstory and continues to develop throughout the show's present storyline. This makes the show entertaining from start to finish as you begin to unravel each character, what makes them tick, and watch them grow through their experience on the island.
Engaging plot twists
Throughout the show, the audience is made aware that one of the girls may not be who she says she is. I found myself accusing different girls and suspecting them of being shady, but the engaging plot twists and brilliant acting made it impossible for me to know who the "informant" was. To avoid spoilers, I won't divulge any of the other twists, but trust that there was not a dull moment in this show's plot.
Depiction of real issues and diversity of characters
Ultimately, my favorite part of this show was how relatable the girls were. Each of the girls had very different personalities, home lives, and backgrounds, which made it easy to find at least one girl to relate to. Each character faced realistic problems at home, and it was easy to follow how each of their actions was impacted by their pasts. The cast was also full of a variety of women who were perfect to play such diverse roles. It is important for all girls to feel represented in the media, and I think "The Wilds" did an amazing job of casting and writing such strong and relatable characters.