Sci-fi series Stranger Things features great acting, unique plot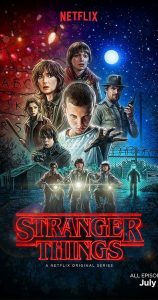 Promotional poster for Netflix series "Stranger Things"
The list of science fiction shows that have failed to live up to their potential is tremendously long. However, Netflix series "Stranger Things" does not belong on that list with shows like "Virtuality" and "Outcasts."
The series was released in July 2016, generating the third highest amount of viewers of a Netflix original show within the first 35 days. With season two of "Stranger Things" rumored to release next July, now is a great time to watch the show if you've been holding off.
With a cast comprised of five charming child actors and Academy Award nominee Winona Ryder, the show was set for success the day it aired.
Millie Bobby Brown had her breakout role as Eleven, a traumatized young girl with supernatural powers who befriends Mike (played by Finn Wolfhard), Dustin (Gaten Matarazzo) and Lucas (Caleb McLaughlin). Brown put on an amazing performance, using her facial expressions to portray her character, especially during a climactic moment between Eleven and Mike in the season finale. Overall, the strength of the cast brought the show to success.
The innovative and original plot was also bound to capture many people's attention. Season one centered around Mike, Dustin, and Lucas searching for a missing boy named Will (Noah Schnapp) with the help of their new friend Eleven, but there were many other subplots, too. The boys' reactions upon finding out about Eleven's powers brought its own form of comic relief, while the love triangle between teenagers Nancy (Natalia Dyer), Steve (Joe Keery) and Jonathan (Charlie Heaton) was well-executed. As the boys come closer to finding Will, they also encounter a dangerous government scheme that threatens their very lives.
"Stranger Things" aspired to entertain its audience with its nostalgic concept, producing a show that is scary, but impossible to stop watching. Even when viewers have to cover their eyes, they can't help but to peek through their fingers to see what happens next. There's always enough action happening to hold your attention, but not too much to make it unrealistic.
The season was short, but still long enough to provide a detailed story line. There were eight episodes, each around 45 minutes. Luckily, in each episode creators Matt and Ross Duffer had a brand new twist ready, like the disappearance of a second character. However, that stream of ideas could not last forever. Sooner or later the season would have grown tiresome and unoriginal, so it was a smart move to end things when they did. Keeping the show's debut short also has left plenty of options for season two to explore.
The content of the show is definitely a little out there and unrealistic, and while I personally am not a fan of science fiction, I was absolutely hooked on this show. The premise of a bizarre kidnapping linking back to both a corrupt government and psychokinetic girl did not appeal to me at all at first, but my opinion quickly changed. I would recommend anyone at least tries watching an episode because they might be surprised by how enticing it is.
The show is definitely about more than just escaping a monster and finding friends. It expresses the value of friendship along with even showcasing a few different romances. These universal themes paired with an exciting plot make "Stranger Things" worthwhile watching, especially with the release of a second season on the horizon.
If you can't get enough of "Stranger Things," be sure to check our Crier quiz to find out which character from the show you are!