New Girl season six is relatable, hilarious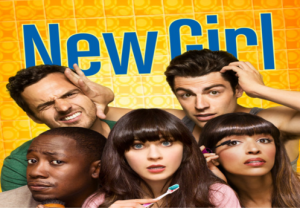 The fun never ends with New Girl season six
America is no stranger to sitcoms that will make you laugh until you cry or that has characters you just want to become best friends with.
However, "New Girl" gives new life to sitcoms with its quirky characters that are relatable to young adults nowadays, such as Winston and his unusual love for his cat. Similar to the classic show from the '90s, "Friends," "New Girl" revolves around roommates who come together to face their challenges of staying young, finding love, and maintaining jobs they love with a new twist of being set in modern day Los Angeles.
"New Girl" started its sixth year this September and has successfully continued on from the previous season. At the end of the fifth season, we were left with the beautiful and touching wedding of Cece (Hannah Simone) and Schmidt (Max Greenfield) that no one could forget.
We were also left shocked and delighted by Jess (Zooey Deschanel) when her now ex-boyfriend let us in on her obvious desire to have a relationship with Nick (Jake Johnson) again. "New Girl" avoids the cliche love story between the two through showing the couple deal with Nick's low self esteem, his amusing need to moonwalk away from his problems, and Jess's inability to stop sharing her feelings.  
The new season hooks us in by first showcasing Schmidt and Cece attempting to begin their life together. The first episode entertainingly portrays the couple attempting to find a house that fits Schmidt's outrageous ideas but does not topple their seemingly tight budget. Episodes similar to this have been seen before in other sitcoms, but "New Girl" adds its own comedic twists to keep us entertained. Winston (Lamorne Morris) begs Schmidt and Cece to let his girlfriend's very ditzy sister be their real estate agent. As the group goes to look around one of the couple's favorite houses, they discover that the house is not for sale at all and are hilariously chased off the property by an old man with a bat.
The actors are very well immersed in their roles and it is obvious that they all genuinely enjoy playing their characters. For example, when the group is all together, whether it is for a loft meeting or to play their favorite game, "True American," their smiles and laughter are so genuine that they make you happy and wish that you were playing along with them. Scenes like this also make it clear that the friendships the characters have on the show have progressed so naturally because of the friendships that the actors have made with each other.
After a two week break, episode six will air on Fox at 7:30 Tues. Nov. 15, so tune in if you want to see more of the group's crazy adventures.