Class of 2016 talks future plans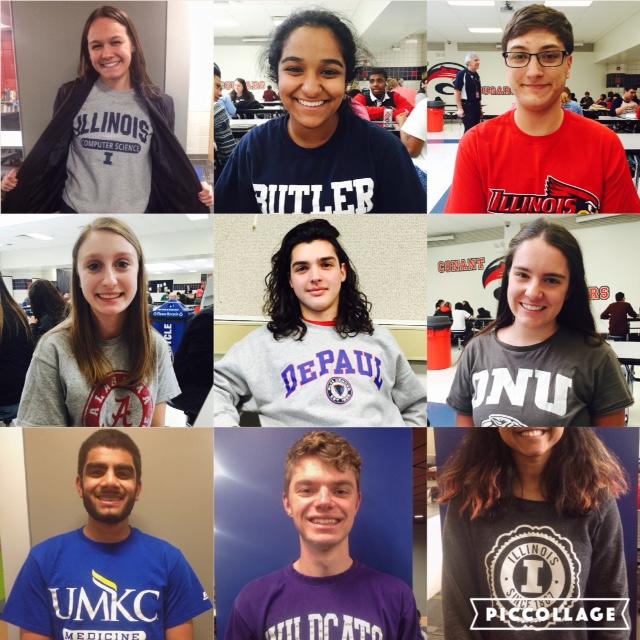 The Crier talked to a few seniors who, on Thursday, April 28, wore spirit wear from the college they committed to attend next fall. They spoke about why they chose their individual schools and the major they plan on pursuing.
Michael Dipaolo will be attending DePaul University in the upcoming school year, where he will be working for major in computer science. He is eager to attend the school for its beautiful downtown Chicago location, and he is also looking forward to being part of the Men's Club volleyball team and partaking in the DeFrag events.
For Carly Norden, the University of Alabama is the school of choice. She will be working for a Biology Pre-Med major. Norden is also excited to join its student-led dance team, Dance Alabama.
Nicole Ryback will be attending Olivet Nazarene University, where she will be working on her nursing major. She was attracted to the school because it is private, small and faith-based. Ryback hopes to become involved as a small group leader.
Nisha Shah is proudly sporting gear from Butler University. She chose Butler because the campus is beautiful and close to home. Shah will be studying Health Sciences on a direct-aid program. She is excited to join the soccer club and the leadership program.
William Wright is eager to attend Illinois State University and partake in the Animal Science and Pre-Veterinarian programs. Wright is enthusiastic to join the Pre-Vet Club and to learn more about the clubs that will be available to him in the fall.
In the fall, Morgan Wessel will be attending University of Illinois at Urbana-Champaign to major in computer science. She chose UIUC for its CS program as well as the CS + X program, which will allow her to double major in computer science and chemistry. Wessel plans to join Women in Computer Science and possibly the Ultimate Frisbee team.
Ben Hyde is proudly representing Northwestern University, where he will be studying mechanical engineering. Hyde hopes to participate on the soccer team and Northwestern's Solar Car Team.
Varoon Kumar will attend the University of Missouri-Kansas City to be a part of the six-year Direct Med program for a liberal arts major and a chemistry minor. Kumar plans to join the Honors college and volunteer for a refugee program, where he will be working with children who are victims of human trafficking and religious persecution.
Representing the University of Illinois at Urbana-Champaign, Himani Vyas will be working towards a computer science degree from the College of Engineering. Vyas plans to participate in UIUC's Women in Computer Science Club, Women Engineers Club and its rock climbing club.