Are for-profit schools scamming unsuspecting students?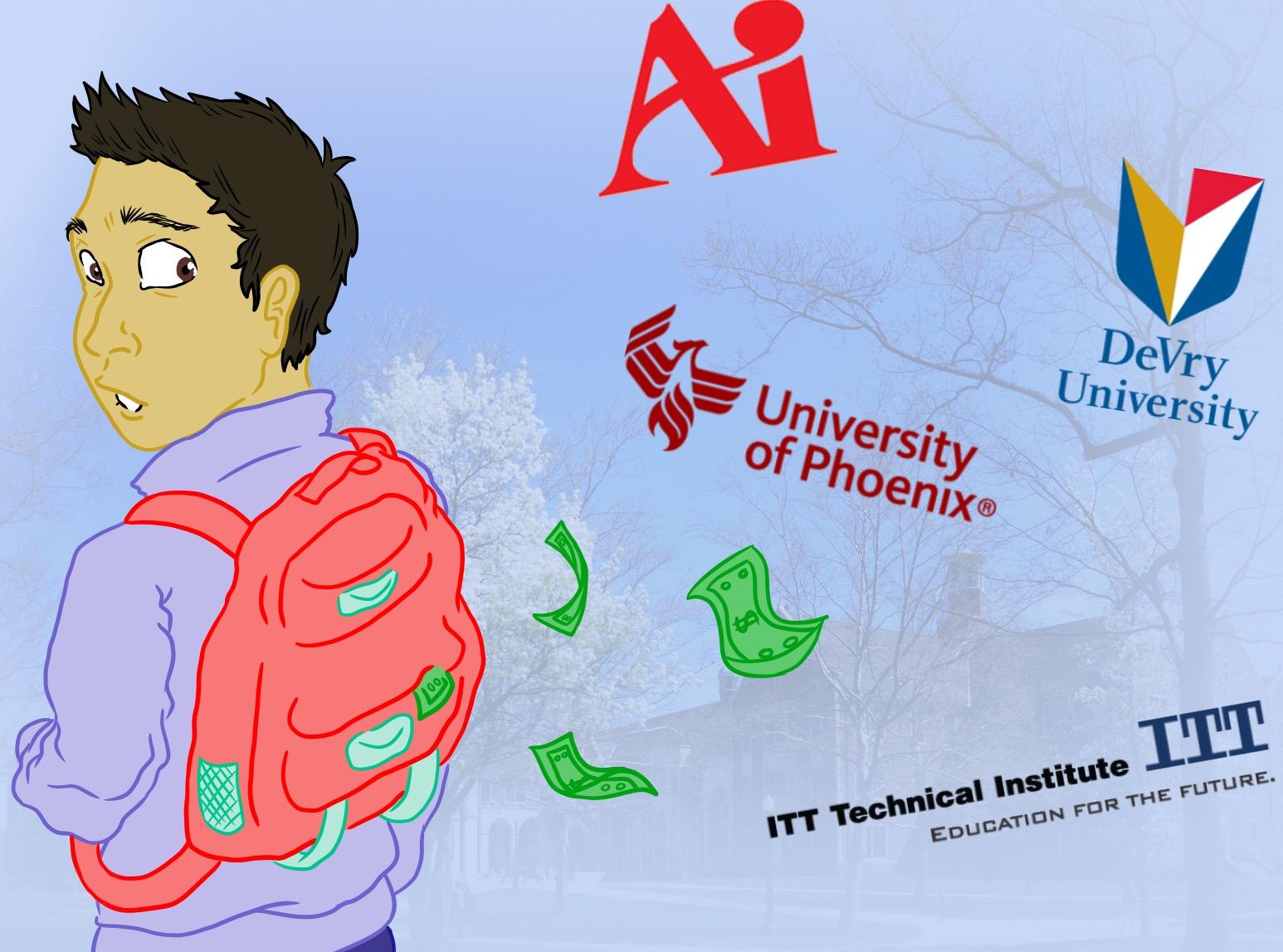 Image credit: Melania Toczko
Groggy-eyed senior Jessica Smith rubbed her eyes as the clock struck 1 AM. She had been sitting at her laptop for 3.5 hours unable to choose which college to attend next fall. A couple minutes later, her laptop binged, and she felt as if her prayers had been answered. She had received an email from a for-profit college that promised her an affordable and fun-filled educational experience. It seemed as if she had found all she wanted and more; however, what she didn't know is that four years later she would be faced with insurmountable debt and a degree that didn't hold any weight in the job market.
A similar scenario was unfortunately a reality for 2004 Conant High School graduate Ami Schneider, who recently contacted the Crier in regards to this issue. After graduating with honors, she hoped to major in arts and attend what seemed to be a brilliant for profit college known as Illinois Institute of Arts.   Four years and thousands of dollars later, she said she realized she had been scammed. She said that her education consisted of "teachers not showing up, extremely expensive credit hours used as glorified study halls, watching movies, a lack of access to studios and equipment, and teaching yourself with tutorials that I found for free online."  Scheider said the time she envisioned would be spent developing her art skills and preparing her for a future career had actually been wasted. At the age of 29, she isn't able to pursue an occupation in the arts, and has filed for bankruptcy. Schneider said, "I saw myself potentially starting a business and purchasing supplies, which I cannot afford at this point." Additionally, in her letter to the Crier, Schneider said, "I wish someone had taken the time to tell me the facts about the reality of obtaining a for-profit education."
The Crier attempted to contact IIA regarding Schneider's allegation, but could not reach the human resources department. However, a recent IIA student was willing to give us his opinion.
Jonathan Sarmiento, 2013 Fine Arts, Visual Effects & Motion Graphics graduate from IIA, is now working at the United Center,  pursuing his ideal career. He says, "I think the most enjoyable part of my job is being able to make an instant impact on the people of Chicago. I get to create content and put it up for all to see on a daily basis." For Sarmiento, his education at IIA allowed him to gain new opportunities and succeed. His degree allowed to pursue his passions, even after college.
However, certain schools are still playing the for-profit game and jeopardizing students. Not all success story are like Sarmiento's. Some schools that have been implicated in allegedly fraudulent cases are Westwood, University of Phoenix, Kaplan, Vatterott, and ITT Tech. What students should take from examples of school successes and failures is that it is very important to be careful and to do research before selecting a school, especially for-profit institutions.
What to do
Though there is much risk in the academic world beyond high school, students can make more informed decisions about their educations if they are provided information. While searching for colleges, it is important for Conant students to be cautious. They need to make sure they are thoroughly informed about an educational institution before they commit to it.
A great resource to learn about the validity of a college or university is the Department of Education's College Scorecard. The college scorecard allows students to search for schools and to make sure that a given institution matches its claims.
Another resource available to all Conant students is the college counselor, Mrs. Ophelia Hernandez. Mrs. Hernandez has years of experience helping students get into schools that best fit their academic needs. She says that students should "definitely meet with their counselors if they are looking for direction in the college search process." Further, guidance counselors provide group guidance lessons, covering post-high school planning and school selector activities. Hernandez adds, "Students are encouraged to continue their college search during their free time and also to visit college campuses before making a final decision."
Hernandez also emphasizes that all students need to explore their options before settling on a school. For students considering for-profit institutions, she recommends they find a school that can help them grow and succeed. Students can learn more about for profit schools they may be considering from this online brochure.
Currently, only 11% of students enroll at a for-profit school, but they make up almost half of all defaults on loans. At Conant and at all D211 schools, students have many options readily available to them, so it's crucial for students to become educated about the colleges they are considering. It could make the difference between finding a successful career or having to file for bankruptcy.