Earlier finals cause students more stress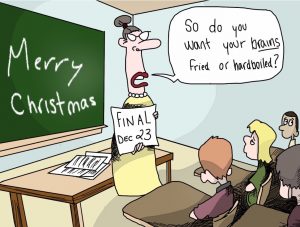 Valeria Vesco | Conant Crier
As everyone is looking forward to the upcoming break, one obstacle still stands in the way: finals. For the 2016-2017 school year, the schedule has been changed so that finals are before break and dangerously close to Christmas. Wouldn't it be great if we could go back to our old schedule and have two more weeks in warm weather compared to being stuck inside all day during the winter? And to have two weeks of break to study for finals rather than cramming a couple days before? If finals were after break students would be well rested and much more prepared.
Having finals early takes more of a toll on students. It's hard to study when there is new content coming in every day. The final review packets create an even heftier workload on students than they already have at the end of the second quarter. Certain classes, such as those in the World Language department, start their finals a week before the actual final exam period, adding additional stress on students. At this time, students are balancing extracurricular activities with schoolwork, which already causes a lot of stress. Right now, when there is so much going on, it's not a good idea to cram in finals.
Many teachers stress the importance of doing well on finals. But this year, there have been tests and projects due a few days before finals start. Unlike other tests, finals can't be studied for over the weekend because they cover everything learned over the whole semester for each class. On average that's about six finals for each student to prepare for in a short period of time. Having finals after break not only gives students time to relax, but also to get some studying done.
It may seem like the schedule is the same as second semester finals last year, but those finals took place when the year started to wind down. Students had a much longer review period at the end of the year compared to now. During the second semester, the final chapters of the curriculum are wrapped up before the actual final, giving the students enough time to ask questions and review all that material. It seems a lot more rushed this year than last year. There are less days to review and an impending risk of a snow day, which could lead to one less review day. It's too hard to study old material when students still have more material being thrown at them.
Finals play a really big part of the total grade. They are worth 20% of the total grade, meaning that in some student's cases, it can make or break their grades.The district has adapted to the new collegiate schedule just to prepare us for college. But what the district doesn't understand is that this can actually impact students' grades. Good grades do matter to students because it can lead them to a good college, meaning that they have to perform well on their finals. Right now, finals should be the main priority of students, but they are overshadowed by all the additional stressors at this time.
It's still hard to believe that finals are already here. Students don't have the proper mentality to be taking finals right now. They need a break to recharge after all the stressful weeks. Also, students probably have to do a lot of planning for the upcoming holidays over break. Students need a well rested and clear mind to fully focus on finals, and they would have that after break. Right now they should be focused on getting a good quarter grade and finishing the semester strong.