Are mandatory P.E. classes helping or harming CHS students?
Dhvanii Raval is a co-author to this piece.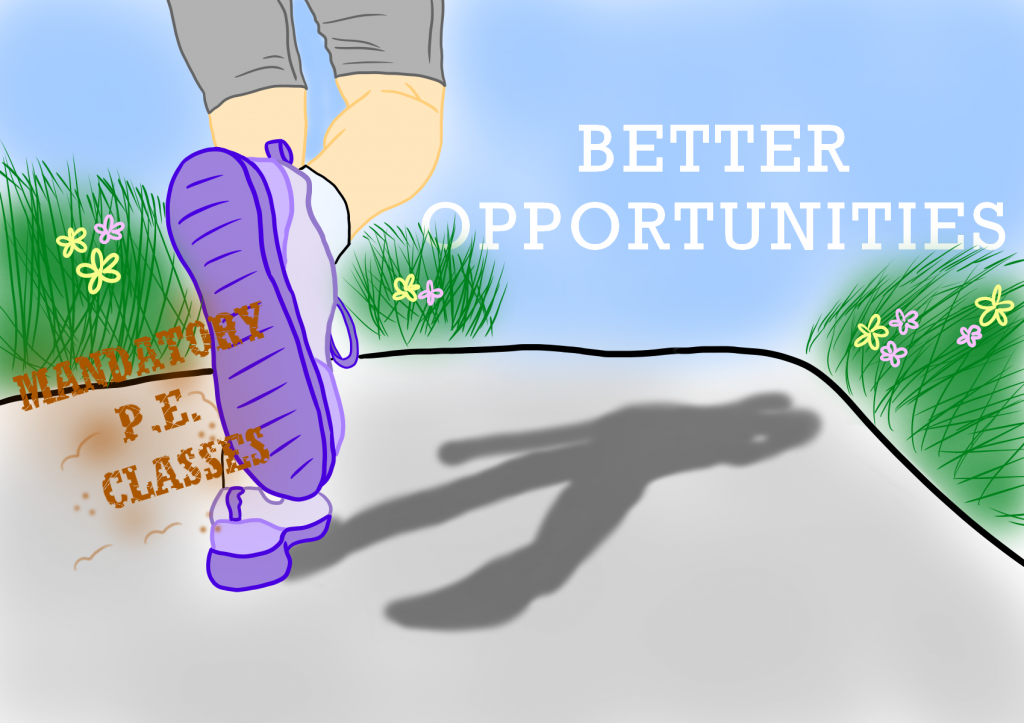 Melania Toczko | Conant Crier
As a frustrated CHS P.E. teacher looks into the swarm of students, only two or three look as if they've completed two rigorous rounds of a supposedly extensive exercise. With the hope of motivating his students into participating, the teacher shouts, "Let's go class; one more round! Try to push yourselves this time." The class responds reluctantly and a scrawny boy looks up from his iPhone and asks, "Why is P.E. required?"
Illinois Representative Ron Sandack asked the same question when he proposed HB1330. Currently, Illinois is one of four states in the US that mandates P.E. One of the aims of this bill was to amend the school code to allow school districts the choice to provide P.E. instead of requiring them to.
HB1330 was co-sponsored by many other senators but was eventually voted down in 2015. A similar bill, HB6164, was introduced later but also voted down in 2016.
After much controversy over whether or not P.E. should be mandatory for high school students, the Crier decided to investigate the impact of mandated P.E. on a student, school, and district level.
Differing Attitudes Towards P.E.
In order to fully understand P.E. controversy, the Crier first decided to ask CHS students. After surveying 138 9-12 graders at CHS, the Crier discovered that nearly 70% of surveyed students agreed that the choice of taking P.E. should be left up the student.
"I would really like it to be the student's choice, but that could be tedious for the counselors to schedule," sophomore Anisha Narain stated. "I liked [HB1330] in that the district decides [whether or not to mandate P.E.] because administrators…could take into account their student body's specific needs."
Since the rejection of HB1330, Illinois legislators and school districts began discussing whether the impacts of P.E. on the student body are significant enough to mandate P.E. classes statewide. Overall, 79% of CHS student poll respondents voted in favor of HB1330, while 21% voted against it.
However, the teachers and administrators the Crier spoke with agreed that P.E. is important to a high school curriculum.
CHS Principal Julie Nowak discussed how the chain of command works, from the state to individual schools.
"It's usually best if decisions are made at a local level, as different districts have unique needs and priorities," she said. "We are fortunate, though, to be in a state that recognizes and values our students' physical and mental health."
D211 Superintendent Daniel Cates added, "The District is fortunate to have great working relationships with all of our legislators and we exchange communications about various legislative initiatives that arise."
For this specific legislation, D211 did not confer with the state; however, the district does realize the benefits of physical education. Cates said, "Readiness extends beyond academics. We know that wellness is a goal that serves all of us."
CHS P.E. Department Chair David Cromer also clarified common misconceptions about P.E. classes. According to Cromer, people are largely misinformed about P.E., which is why it is attacked so much.
"The deal is that you can't walk by any class room and look in and say, 'I get what's going on,'" he said. "The unfair thing is that someone will walk by [the] gym and see kids sitting there, but it could just be a teacher explaining to the class what's going on."

Aditi Katwala | Conant Crier
Why Teachers and Administrators Support P.E.
National health reports indicate concerning numbers of people who face health challenges resulting in large part from personal health habits and choices.
Cromer said that the goal of P.E. is to promote mental wellness as well as physical wellness. "We want to incorporate mental and physical. The studies show that they go together, so we are trying to enhance that experience for the entire building," Cromer added.
Cromer also said he believes that a healthy lifestyle can only be achieved through a community effort. "I would not put that responsibility on P.E. teachers. It should be on the community and parenting," he said. "The job cannot rely solely on a P.E. teacher."
However, many students believe that P.E. obstructs their opportunities. Sophomore Natalie Urban stated, "I dislike gym class, mainly because I already have limited amount of time to take classes and I would love to take more electives."
Cates recognized this concern, though he stated he believes students have ample opportunity to explore additional courses of interest in the district.
"Illinois is one of the only states to require four years of physical education. While meeting this four-year requirement, most students in District 211 graduate with credits exceeding the minimum number required for a diploma," Cates said. "The credits beyond the minimum requirements provide an opportunity for students to pursue courses aligned with their career pathway interests and to deepen their readiness for college."
Social studies teacher Bruce Hildabrand supports mandatory P.E. He said, "I believe that we need to not only tell students about the benefits of physical activity or exercise, along with proper nutrition, stress management, and other health related topics, but show them and help students to incorporate them into their lives as well."
Hildabrand stated that he believes that the passage of HB1330 would be a loss for students. He said, "For my students, I see the loss of an opportunity to enhance their education and their personal lives."
Just like Hildabrand and Cromer, Nowak recognizes the values of P.E.classes. "I think it's important for students to develop lifelong positive habits to support their physical, emotional and mental health," she said. "P.E. is one way students can practice positive health habits, but they can also learn skills to carry them into adulthood."
For instance, one of the positive health habits they discuss is how to deal with stress.
Cromer and Nowak both stated that stress is one thing that almost everybody has. Cromer cited fitness as a way to relieve that stress, saying, "School work is hard, so that's why we try to incorporate fun activities in gym to relax students."
A potential effect of removing the mandatory P.E. could be job loss for P.E. teachers.
Hildabrand partially attributes his lack of support for HB1330 towards the potential job loss of CHS P.E. teachers. He stated, "The only personal impact I can see in the passage of the bill is that teachers whom I consider important contributors to the success of Conant High School and personal friends would more than likely lose their jobs."
Changes to P.E.  
CHS is working towards creating wellness programs that cater to different students' athletic abilities. "We are already implementing more enhanced P.E. programs," Cromer said. Placing students in classes based on their athletic needs would tailor a class based on the student, Cromer continued.
Many students, such as junior Tricia Nicholson, had the same idea as Cromer about classes based on athletic needs.
"I believe that there should be a fitness test that determines whether or not a student should be required to take P.E.," she stated. "If a student wants to be exempt from P.E. and passes the test, they should be able to take another class instead."
Cromer added that fitness testing could be one of the methods that helps determine a student's placement in P.E. Currently, Conant and P.E. teachers use such tests to place juniors and seniors in special classes such as leadership or weight training.
Cromer added that it's not that easy to change the entire P.E. curriculum. He said that their progress is certainly making P.E. more beneficial and enjoyable for students.
Students also agree that there is a need for reform within the P.E. system. Such reform would include more "out-of-the-box activities" that would engage students from diverse athletic backgrounds or allow for a P.E. opt out option based on physical wellness.
"District 211 students currently have an array of choices available surrounding the nature of their physical education experiences during junior and senior year in high school," Cates added.
"Through the work of our teachers and expressed interests of our students, the district has been able to create physical education experiences," he continued. "These varied offerings allow students to select activities that align with their interests now and provide them with opportunities to remain active with these activities well into adulthood."
Cates added that he is active today, but wished that he had these opportunities earlier.
"As a person who greatly enjoys the benefits of yoga now, I wish I had been exposed to it much earlier in my life," he told the Crier.
42% of students surveyed preferred specialized gym classes, such as Adventure Gym, Fit for Life, Yoga, and Dance Gym. The majority of the students who said they are choosing to take special gym class claimed it was because such classes make working out more enjoyable rather than strenuous.
Additionally, two options for opting out of conventional P.E. class are senior opt out and zero hour. Seniors with a 2.5 or higher unweighted GPA taking an AP science course have the option of opting out of P.E. Zero hour P.E. is an option for juniors, seniors, and varsity athletes to come in before school starts to work out. Surveyed students taking zero hour P.E. said they did so to take another class instead of P.E. during the school day.
Physical education "offers students the opportunity to learn about and practice lifelong skills related to physical wellness," Cates said.  "Developing healthy habits during the teen years helps establish lifelong healthy practices."