Conant English teacher shares experiences writing comic books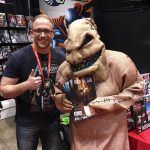 Courtesy of Andrew Guilde
At Conant's first ever Writer's Day, Conant English teacher Andrew Guilde spoke about his own writing and encouraged young people to pursue their dreams. Guilde has written two comic books as part of his series Man of Sin, published by RayHaven Comics.
Guilde described Man of Sin as a "psycho spiritual thriller, a term that I coined."
He went to school for creative writing with a concentration in screen plays. "So I write screenplays, but the only thing I've had published is comic books. I usually work in the visual medium, but I have been toying with the idea of an actual novel," Guilde said.
He explains that he doesn't like to consider himself a horror author. "The only thing I've published so far is horror stories. That's the genre. I don't ever want to pigeon hole myself into a genre. I want to tell whatever stories I want to tell, regardless of genre."
Guilde feels that "it's an expectation for companies to place authors in a specific genres and have them 'laser-focused' on that one genre."
As a little kid, he practiced different forms of storytelling through playing and daydreaming.
He said that storytelling is natural for everyone–he just does it in a professional manner. "We've been telling stories for generations, whether it's oral stories that are told around the campfire. Human beings are hardwired biologically to tell stories. I'm just carrying on that tradition," Guilde explained.
His writing process starts off with him laying in bed and thinking before he goes to sleep. Guilde said, "I'm by myself and I'm able to focus on one thing, and that one thing is usually a story, and I let my mind daydream to whatever it is. What I'm doing is I'm building that world in my head so that when I go to outline or I go to write, that is already created."
Then he wakes up every morning at 5:00 a.m. to write two pages. Guilde said, "I don't care whether they're good or bad or in between. I just write down and transcribe what I created in that story world the night before."
"I remember being a high school kid and having these stories and not believing it was something tangible or it was actually something someone could do," Guilde said. "I think it's my responsibility, not only as a teacher, but as an adult, to share with the young people that it is okay, it is real, and that you can do it."
Guilde's advice for high school students is to pursue what makes them happy, no matter what they believe in and love. "If someone out in the crowd wants to do something but they're afraid to do it, they're waiting for permission to do it," Guilde told the Writer's Day audience. "If I could tell them or somehow reach to them that they don't need permission. The only permission they need is from themselves; if I could reach that student, I would be happy with that."
[print-me]