New Teacher Spotlight: Becky Schomer
This school year, Conant has nine new teachers. Seeing as most students won't be introduced to them in the typical way, the Crier is providing short features on each. Today, the Crier would like to introduce Becky Schomer from the English department.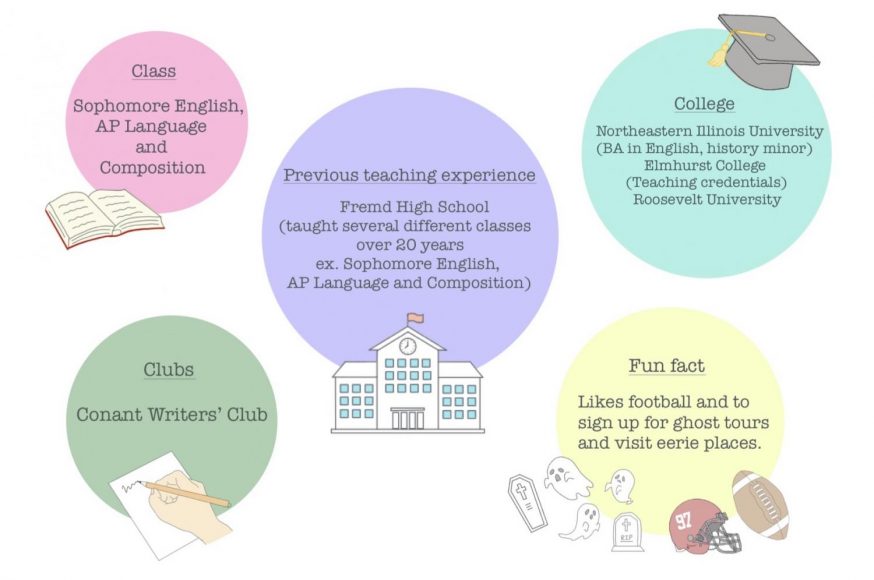 Kana Nagoya
Crier: What are you passionate about?
Schomer: I think it probably lends itself to me being an English teacher, but reading is one of my favorite activities and I love to travel. Also, one of my obsessions is college football. My dad and my grandfather were both high school football coaches so I've loved football my whole life. My daughter goes to the University of Alabama, and they're known for their football program, so I am a die hard Alabama football fan. My favorite football team is the Alabama Crimson Tide, and my daughter is graduating from there next month.
Crier: Did you play football?
Schomer: When I was a kid I was the only girl in my neighborhood and if I wanted any kind of activity, I didn't have any girls or dolls to play with. I was definitely raised on sports and was always involved in playing sports like flag football. But when I got to high school, it really wasn't a thing for girls to play football, so I played tennis and softball.
Crier: What is something cool you've done before?
Schomer: Some of my favorite cities for traveling are New Orleans, Savannah, Georgia, Charleston, and South Carolina. Every time I go to a city like that, one of the things I do is I sign up for a ghost tour. I am really intrigued by the history and those eerie old cities.
Crier: What do you do during ghost tours?
Schomer: You get greeted by a person who's an expert of the supernatural, and they take you to all these places that are supposedly haunted and tell you of all the lore and the things that went on to cause the unrest. My favorite one was actually the one in Savannah, Georgia where you meet at midnight. They take you to all these different locations, and tell you the story of why it's supposedly haunted. I love these tours because there's history and there's hauntings so it's kind of a neat way to experience the city.
Crier: I heard that you've taught at Fremd for 20 years before transferring to Conant. Why did you switch schools?
Schomer: My choice comes from the fact that I've never left Schaumburg Illinois. I've lived there my whole life. I started to think a few years ago about the different demographics within our district and the diversity different schools have to offer. I kind of told myself at 20 years I want to challenge myself because I think change is good for the spirit. Even though I'm not going to change my career, it's a subtle enough change where I can feel invigorated.
Crier: What is one thing that you keep in mind when teaching students?
Schomer: Some students might have to work many hours or have younger siblings at home that they're trying to help facilitate in school. I think whether we are under traditional circumstances or e-learning, the most important thing for me to remember is that I'm working with human beings that have lives outside of school.
Crier: What is something that you've regretted through your high school experience? Do you have any advice for students?
Schomer: I honestly don't have a lot of regrets. I think one of the best parts of my high school experience is that I had friends from all groups. I think that set me on the right path in life because I tend to wait until I get to know a person before I judge them rather than just judge them on their appearance or who they associate with. I think my best advice would be to get to know as many people from as many different backgrounds as you can because I think that's what makes high school a life experience that can help you in the future.
Crier: Do you have any messages for the students?
Schomer: My best advice to students is always try to stay true to yourselves. Always think with an open mind and play your part in making our society better.