Conquer your high school years: be a leader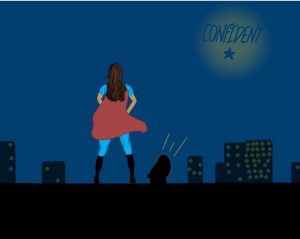 Mauli Patel
You walk into a room, and out of all the people, one person catches your eye. She stands tall, with a confident look in her eyes, and is always aware of her surroundings. You see that she is answering questions and interacting with all the members of the club. She has a friendly yet guiding demeanor. All of these characteristics are commonly known as leadership skills. Leadership is a key skill that any aspiring student has the ability to acquire.
Taking risks and putting yourself out there
When it comes to taking up any kind of leadership role, a person must be willing to take risks and step out of his/her comfort zone.
Sarika De Bruyn, '17, co-president of Student Council, advised students, especially those that may be shy, not to be afraid of approaching different members of clubs or activities in order to get more involved. She mentioned that by getting involved, she learned how to speak up.
De Bruyn believes that "speaking out more leads to a greater sense of confidence. When people start listening to you, it makes you feel important. When people praise you on your work, your confidence builds off of that."
Often students can be afraid of leadership roles because they fear failure. To this, Bruyn said, "Don't be scared of judgement. If you make mistakes, no one's going to be mad at you. You just have to own it."
Tommy Zanichelli, '17, co-president of Student Council, believes that students who aspire to be leaders should start off by joining an activity they're interested in. He mentioned that "when you're in a club that you like, you're more passionate towards it and want to succeed."
Zanichelli thinks that taking action can be difficult at first but is not impossible. He said, "Once you're in a comfortable environment, and you feel like your opinion is important, it's a lot easier to say what you want to say."
English teacher Karla Modelski teaches Leadership For Life. She believes that confidence comes with practice. She said, "The more involved you get with school activities, the more you gain the confidence aspect of leadership. Be willing to take risks [and] get out of your comfort zone."
Goal-setting and motivation
An essential skill that Modelski teaches in her Leadership For Life class is goal-setting and developing a sense of motivation. She encourages her students to write down mission statements. She said she believes that mission statements help establish "what kind of legacy you want to leave behind" and is "a daily reminder of the type of person [you] want to be."
When it comes to goal-setting, Zanichelli said he sets a goal that might be a bit difficult to achieve but can be accomplished if he sets his mind to it. He thinks that although it may be challenging, it provides a better sense of drive and motivation.
Sandra Brown, '17, a student on the President's Forum Board, is currently enrolled in Leadership for Life and also believes that writing mission statements about the kind of person you want to be and how you want to live your life every day serves as a drive for motivation. She said, "Looking at the end goal and thinking that this is the person I strive to be and wanting to be that person [motivates me]."
Self-improvement and self-awareness
Another key skill for student leaders is to constantly self-evaluate and improve themselves. "If you know who you are, and if you know what your goal is, you're more likely to achieve it. If you don't know yourself, you can't expect others to follow you," Modelski said.
Student leaders need to be cautious of their surroundings and aware of what's going on. Modelski said to "listen with your eyes, be cautious, see verbal communication, be aware of what you're seeing around."
Modelski also believes that effective leaders are always seeking knowledge, as well as learning from role models in order to self-improve.
Brown thinks that when situations get tough, it's important "to take yourself out of the situation, look at what's going around [because] that's when patience comes in. You might get caught up in a situation where you have to see the big picture."
Andrew J. Dubrin, author of Leadership: Research Findings, Practice, and Skills, Seventh Edition, said in his book, "A leader who is self-assured without being bombastic or overbearing instills self-confidence in team members."
Self-awareness also involves time-management. Brown suggests to use a planner and prioritize by looking at things in advance and not leaving everything for the night before.
Working well with others
Modelski believes that when it comes to working with others, people can commonly take the role of negative leadership. She said that being vocally louder or just being there for the title and not there to do the work are examples of negative leadership.
In order to accomplish good shared leadership, Modelski said, "Not everybody is coming from the same background, so you need to recognize everyone's strengths. The biggest skill is communication, but part of communication is listening. Listen to others first; then express your viewpoint."
Some tips De Bruyn gives on working with peers is to be willing to approach them in a different way when disagreements occur and to learn to work with different kinds of people.
Zanichelli said, "Respect everyone's opinion because they have that opinion for a reason. Everyone has their beliefs."
Brown said that being a leader isn't just you depending on yourself, but it's also having the support of peers. She said, "Don't be afraid to bounce ideas off of each other and use others for support, too. Being a leader, you're not just by yourself."
Leadership isn't a skill that should be applied only to high school, but also to life in general. Brown said, "High school leadership helps students grow as a person, not only in school, but also [in] the work force because we're going to have to apply this to any job that we're going to have."