Remote learning needs to change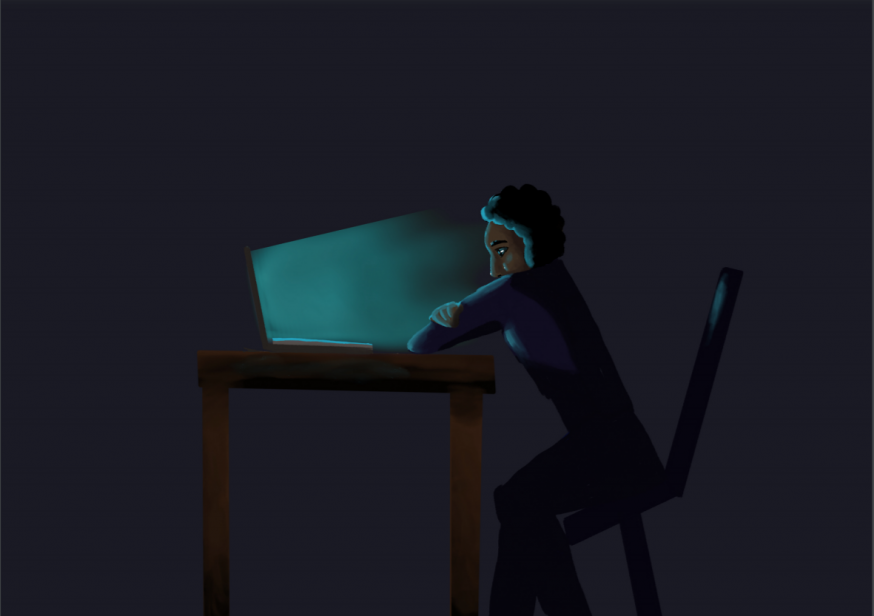 Christiana Kirov
Waking up early, hearing the one-minute bell, and being in the loud hallways used to be the least favorite part of the day for many students. However, this year is different, a common theme of 2020. Being in the comfort of their homes is now something that some students would give up in exchange for going back to normal life, pre-COVID-19. 
In addition to internet issues, headaches from looking at a screen for so long, and a lack of social interaction, many students have found it difficult to stay focused during class. The majority of time in class is spent taking notes, and interest in this monotonous action can dwindle over time. What used to work in a normal class setting might fail through remote learning, especially when teachers can't tell where their students are in their level of understanding. Over the course of the first semester, there have been numerous efforts by students and teachers to overcome these challenges, and it is important to reflect on what has worked and what needs to change as we approach the second half of the school year. 
For example, to avoid the loss of focus in class, in remote learning, a fun activity that engages students with a variety of learning styles is necessary to facilitate learning, regardless of the subject. 
It is definitely understandable that teachers have also faced problems adjusting to remote learning. Imagine how much different it must be when they are used to standing in front of a class and interacting with their students face to face. Now, many teachers are not even able to see their students' faces the majority of the class. Teachers may find it challenging to help students when they don't know what's going on in their lives, and they can't pressure their students too much to turn on their cameras in order to respect their privacy. On the other hand, students should recognize this issue and try to turn their cameras on when possible. To help students stay on track, teachers can clarify what it is they will be doing that day not only verbally, but also visually whether on a daily schoology update, assignment guide, or schedule given at the start of class or every unit. 
Many teachers are likely aware of the problems their students are facing due to the limitations of a virtual classroom and have tried changing the classroom dynamic by using breakout rooms in Zoom. However, when discussing breakout rooms during a recent Crier meeting, we almost unanimously thought they were usually ineffective, uncomfortable, and useless. Features editor Ananya Maddulapali, '23, said, "They're awkward and (usually) don't accomplish what the teacher wants them to. Most of the time when teachers put us in breakout rooms, they want us to work together on something, discuss, ask questions, and have our mics on." Too often, however, students turn off their microphone and video camera and make no effort to work with their classmates, which can be very frustrating for students who actually want to learn. 
On the bright side, something that has been helpful and has worked effectively to avoid awkward, silent breakout rooms is asking (through email, Schoology, or Zoom chat) students who they would like to work with and putting them with each other in a breakout room on Zoom. While in a regular classroom this may result in distraction and students going off-topic, in the world of remote learning this is more likely to get the students to talk to each other. Sometimes, it's even worth considering that a student learns better independently, and not pressure them to work in a group when it's not necessary. There is the inconvenience of creating the rooms before or during class, but the little extra time will be worth the wait for the students.
Of course, for any type of learning environment to succeed, cooperation between students and teachers is required. Remote learning has made this more difficult. 50% of students on the Crier editorial board said they were not comfortable asking a question in class. This hesitation may interfere with learning, especially when questions are timely. Students should try to get more comfortable with speaking in class and communicating when there is a problem. To help students, teachers can try to do activities that encourage discussion, not only just asking students to share something about themselves. Teachers can try to build one-on-one connections with students by checking in to see how they are doing in breakout rooms. While students are responsible for their learning, teachers should focus more on these communication aspects of learning throughout the year.
Making changes as previously recommended can be an obstacle, so here are a few things students can do to improve their learning: 
If you have a question, type it in the chat in Zoom.

Get comfortable with your teacher by getting to know them. If you happen to come on the Zoom a little early, ask them how their weekend was.

Remember that if you're confused about something, you're probably not the only one.

Talk with your classmates about the class. Maybe you can share some tips, or realize that you're not the only one and go together to online academic support to ask the teacher.

To get comfortable with turning on your camera, use a virtual background.

Wake up for school as if you are going in person.

Dedicate a place for online learning; it can be a specific chair at the dining table, for example. This way, when you are on that chair, you know to focus on school.
Whether as teachers or students, it is always helpful to reflect on what has and hasn't worked to improve for the future. If teachers and students work together, we are likely to be more successful in adapting to this change.